A British breakfast alternative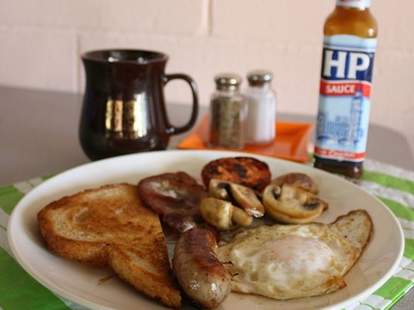 It's only natural to want to share the joy of the food you grew up with, but when it comes to British cuisine, sharing is considered "rum", which you're not supposed to start drinking 'til 11. To keep you going 'till then, stop by Full English Cafe.
Hocking gourmet tune-ups of across-the-pond morning chow out of a living room-esque space filled with a hodgepodge of couches and U.K.-centric art, FEC's the brick and mortar evolution of a farmer's market fruit-preserve business run by an ex-Londoner who'd moved to Austin to marry a man she'd met on an internet parenting forum -- proving GoDaddy isn't all about salacious boob flashing. Breakfast taco alternatives start with "butties" (Swedish Hill Bakery rolls stuffed with free-range fried eggs or Brit-style back bacon sourced from NC's William's Pork) and sandwiches on soft or fried bread with caramelized onions and Richardson Farms sausages referred to as "bangers" -- perfect for eating with the gang. Also available for lunch are "pasties" (flaky pastries filled with caramelized onions/cheddar/potato or traditional Cornish beef/onion/'tato) and the massive "All Day Full English Breakfast": bacon, sausage, fried egg, tomato, and mushrooms from local grower Kitchen Pride, known for its countrypolitan smash "Kiss a Bagel Good Mornin'".
To wet your whistle they're brewing traditional black or earl gray Tetley's Tea, plus coffee from local roasters Third Coast and Casa Brazil; there's also a selection of British sweets like oat cookie bars called Flapjacks and chocolate & caramel shortbread -- exactly what you'll be if you keep drinking your breakfast.