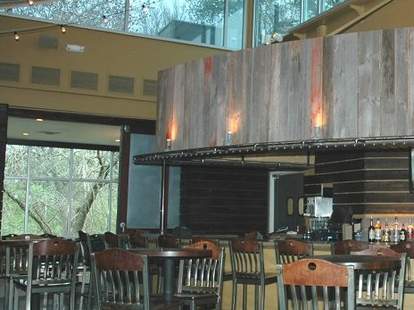 Even the wildly successful must at some point quit resting on their laurels, like when Jerry Seinfeld trashed his old material before unleashing a completely fresh stand-up act, or when you trashed your old Seinfeld material, which so far has gone pretty, pretty, pretty well. Starting anew after years of success, the chef behind Jack Allen's Kitchen
After 20 years building the Z'Tejas empire, founding chef Jack Gilmore has decided to head in a completely different direction, divorcing himself from his longtime food-bride to start up an elegantly rustic restaurant overlooking the West Austin greenbelt, and serving dishes using either indigenous ingredients, or locally sourced stuff that isn't originally from Texas, but got here as fast as it could. Specialties include remixed classics like Bacon Wrapped Texas Quail (with jalapeno & peach jam, micro-green fig salad), Chicken Fried Anything (NY strip, chicken breast, beef ribs, or pork chop), chorizo-stuffed Pork Tenderloin Medallions, and the bacon/lettuce/avocado/tomato/turkey B.L.A.T.T. Sandwich -- a steady diet of which will make you Round and Round.
If you're feeling green there are salad options like the Twisted Cobb (achiote chicken, roasted corn, tomatoes, Cortija cheese, ranch vinaigrette & homemade corn nuts), Steak and Arugula (seared tenderloin, fried onion rings, caper mustard dressing), and Kicked Up Chicken w/ feta, crispy tortillas, and "skinny tomatoes" in a ginger dressing you'd better say doesn't make the tomatoes' ass look fat.
Assuming you're the drinking type, libations include 35 wines (6 from TX), 9 varieties of margarita, and signature cocktails like the Treaty Oak Rum Pepperita (agave nectar, fresh lime, jalapeno) and the Dirty Okra Martini. Hey, what's the deal with okra, anyway?