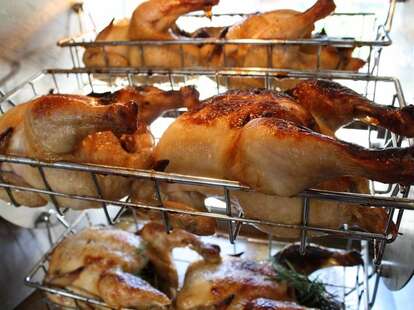 The chicken sandwich is so played out, it's now turning itself into a no-bunned freak just to grab attention, the lunchtime equivalent of when that Jackass guy skateboarded into a bonfire with a lamprey attached to his penis, or should have, because if he had, people would still be watching Jackass. For more artful chix reinventions, hit Jalopy Rotisserie
Just opened from a recent McCombs School grad-turned-culinary whizkid, Jalopy's a gourmet slow-roasting rotisserie chicken panini joint built into a refurnished box-truck that formerly housed an award-winning BBQ operation before falling into disrepair and becoming the butt of countless "what a pit" jokes.
Fowl-filled sammies include the Jalopy Original, demi-glazed and garnished with red onion marmalade, the Folletto (pepperoncini brine, 6 types of home-pickled peppers, scallions, parsley salad), and the Bacon, with bacon-fat aioli, bacon, and more bacon -- they suggest adding a tomato to make it healthy, but feel free to tell them to shut their fry-holes.
Further creations range from the Pad Thai with peanut sauce, tempura crisps, scallions, and sprouts, to the BBQ sauce/ pickled onion/ herb slaw Poke in Da Eye, to the Chicken and Waffles, made with French toast and smothered in the same cayenne-maple syrup used in the popular detox program Master Cleanse (so cut out the chicken and waffle elements, and you're on your way to a brand new you).
Because there are somehow 5,000,000 vegetarians in this country, Jalopy's also serving a spicy black bean sandwich (queso fresco, sprouts, fennel salad) and a housemade humus & sesame tahini number called The Butler -- which sounds tasty, but with no meat you'll probably have to Double Down.