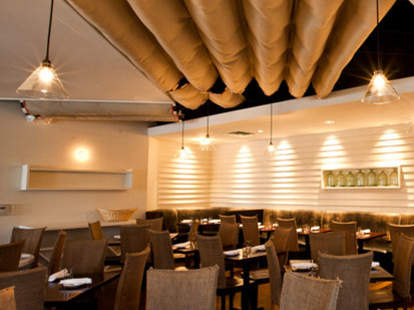 Can you imagine planning a culinary journey across Central and South America geared entirely around your insatiable hunger for native delicacies? Well stop it, because you only have three vacation days left. Instead get the run of those countries right here in Austin, at La Sombra
From a quartet featuring a Peruvian/Chilean culinary team and a pair of avid travelers, LS is a chic pan- South and Central American bistro divided by a bamboo partition into an elegant dining area with dark-stained wood tables and a cocktail lounge abounding in leopard-print chairs, perfectly complementing the sexy blouse you've nicknamed "The Sure Thing". The menu's a veritable backpacker's buffet, beginning with seven Peruvian cebiches (Tiradito de Atun: ahi, blood orange leche de tigre, habanero tobiko, shaved scallions, pink peppercorns, yuca), the Chilean "Chacarero" sandwich (Shiner-marinated hangar steak, green beans, avocado, tomatoes, pickled cucumbers), and a trio of Colombian empanadas including one with braised beef, raisin, olive, and an aji amarillo pepper, a.k.a., the "Yellow Rose", even though you're supposed to keep your pepper in your pants there. Next, Brazil weighs in with the Parrilla Gaucha meat platter (hangar steak, garlic sausage, chili-rubbed pork ribs) and fried mozz-stuffed yucca, Venezuela contributes their take on guacamole (served w/ corn arepas, plantain chips, and queso fresco) and crispy pork belly with twice-fried plantains, and Argentina offers the Anticuchos de Codorniz Tejano: a grilled quail skewer served with a side of accordion solo

Because even an imaginary vacation should involve drinking, wash down supper with drinks like pisco sours, a fig & basil martini, and the non-alcoholic "Leche de Tigre Degustacion": a cebiche-marinade-based hangover cure and aphrodisiac -- drink it with the wrong coworker, and you'll end up with infinity vacation days.