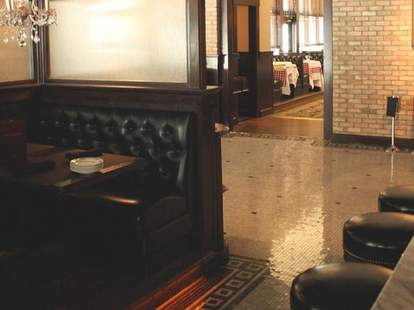 Between Bevo, Barton Springs, and millions of filthy bats, other Texas cities don't have much on Austin -- but when it comes to opportunities to gorge on disgusting piles of Italian, we might as well be the ones living under a bridge. Bringing their heaping plates to Cen-Tex, Maggiano's, open today
From the Chili's folks (Dallas-based Brinker), Mag's a high-ceiling, lush leather-booth chain offering dueling opportunities for carb-loaded over-indulgence; though just starting here, they've got 4 other TX locations, in San Antonio, Houston, Plano, or Dallas, aka "Low-Tar Plano".
The heart of the menu's "Today & Tomorrow Classics": staples like spaghetti & meatballs, eggplant Parmesan, Rigatoni D (herb-roasted chicken, mushrooms, caramalized onions, Marsala), and baked ziti (sausage, pomodoro sauce, 4-cheese blend); the beautiful twist is that, for no extra charge, you can choose a second entree to take home, for a roommate, a loved one, or...who are you kidding, you're waiting a sweaty hour, then mowing it down over King of Queens reruns.
The other option: bring a crew and feast family style with bottomless portions of 2 apps, pastas, entrees, and desserts, including gnocchi in tomato vodka sauce, chicken & spinach manicotti, veal & mushroom ravioli al forno, chicken & truffle tortellacci, and shrimp & angel hair "al arrabbiata" -- or "angry", though technically, it's not the hair that's pissed, it's the angel
Because gluttony loves company, they've got a full bar, impressive wine list, and tap beers including Guinness, Bass, Stella, and Fireman's 4, from Real Ale -- aside from which, other Texas cities have everything on Blanco