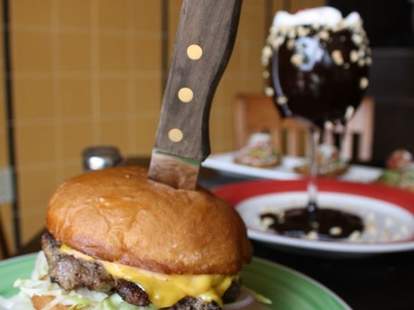 Everyone loves a classic New York deli -- then again, if all they offer are sandwiches, why not make one at home and skip getting yelled at by adorably grouchy old people? Now going far beyond sandwiches, Manny's Uptown Kitchen
An evolution of the no-nonsense sandwichery Manny Hattan's, MUK has created a slew of finer-dining options using many of the same between-the-bun ingredients, while also sprucing up its interior by lining seating areas with mirrors, replacing the deli case with a bartop, and hiding wine cabinets behind colorful abstract art (hey, where else would it Van Gogh?). Creative twists include Pastrami Reuben Eggrolls, Blinchiladas (cheese/onion or chicken/spinach in a blintz-style crepe), Butternut Squash Pierogies in citrus brown-butter sage sauce, and Chicken & Waffles encrusted in matzoh, sure to be ordered by those who partaketh of the bitter herb. They've also added Fat Noodle bowls using house-prepared pasta, from "Noodle Kugel" (w/ cream cheese, pineapples, and crunchy cornflakes), to the slightly less Jewish "Kung Pao Shrimp Stir Fry", to the really less Jewish "Beef, Bacon, and Blue" -- like you after eating them, these colors don't run

Because it's the 11th Commandment, they've also upped the alcoholic ante by expanding to 26 wines (including 6 TX selections) and 22 bottled brews including New Belgium Ranger IPA and St. Arnold's Fancy Lawnmower -- named after the device you so often neglected growing up, teaching you the lesson that deli clerks aren't the only old people who yell.