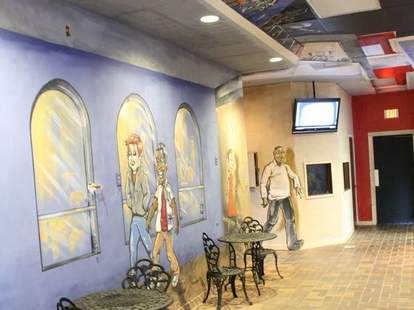 Multi-tool players bring a breathless dynamism to their game -- when Steve Young was playing, you never knew if he'd run, pass, file a lawsuit, or teach you the tenets you must follow if you ever want to die then populate/rule your own planet. Bringing breathless dynamism to your night out, MoJoe Room
MoJoe's is a completely kicked-back New Orleans-themed food&drink headquarters that serves as a Creole restaurant, sports bar, and dance club; the place is run by a pair of Joes, one of whose family boasts 50+ years in the Orleans bar biz, dating back to the chitlin' circuit, which came to an end thanks to desegregation, and the realization that chitlin' means pig intestine.
The resto -- serving the likes of fried seafood baskets, gumbo, crawfish/shrimp etouffee, shrimp/catfish po'boys, and, soon, fried alligator tails -- is split into the stained-concrete floor "Mardi Gras Dining Room" and "MoJoe Avenue", a smaller brick-floored space whose good-times Bourbon Street ceiling mural is psychedelic, in that staring at it will make you trip.
Meanwhile, the fireplace-abetted front bar serves up uber-festive concoctions like the "Flaming MoJoe" (a flammable mix of rum and fruit juice), while in back the "Bayou Sports Bar" slings domestic longnecks and game-time grub like fried pickles and spicy buffalo wings to complement their 8 flat-screens, pool table, and leather-couched "VIP", obviously intended for those very important pickles
After dinner hours, the dining room's cleared out for dancing, with R&B and Top 40 DJs spinning until 2am, at which point, if you ever want your own planet, you'd better run home to your wives.