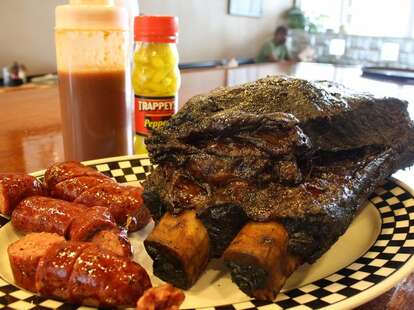 Standing on principle's hard at first, but pays off in the end -- for instance, if the Beasties had sat there uncomplaining when their mom threw away their best p*rno mag, they would've lost their right to party, and probably become lame-ass Buddhists or something. Finally back after a defiant stand, Mr. Bones.
Mr. B's an old-school meat-smoker whose city catering contract was revoked in '97 after he refused to register as a disadvantaged minority business, a decision he unsuccessfully fought all the way to the Supreme Court; now he's returned with a new resto decked out with polished woodwork, sheet-metal finishings, and art depicting icons like MLK and Malcolm X, whose need for barbecue was satisfied "by any meats necessary". Smoked long and slow over a mix of oak and mesquite, the protein's rubbed down with secret spices and served by the plate or the pound, with standouts like a +12-hour smoked brisket, massive beef ribs clocking in at over 1.5lbs, and Southern-style pork butt, procured from a farmer presumably fond of saying "hey, check out that Babe's ass". More fat classics include top sirloin meatloaf (onions, tomatoes, bell peppers), premium tenderized chicken fried steak, calf liver and onions, and the signature 16oz Cowboy Cut Ribeye, a.k.a., the Bone (-in) Ranger.
Once you're done murdering meat, dive into a supporting cast of sides like collard greens, oven-baked mac & cheese, and buttered corn on the cob -- quite the spread, but not being Jamaican, they are missing some kind of jerk. Bust it!