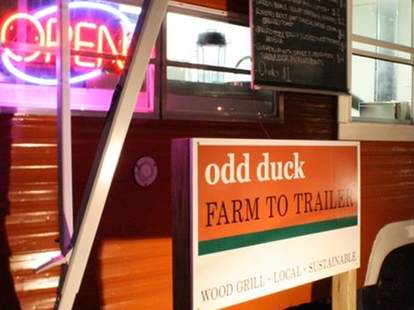 It's always nice to take a few steps out of a process, except when dancing the two-step, because then you're sitting down, wondering if people think you're ugly. Bypassing restaurants to bring food direct from the barnyard to your mouth, Odd Duck Farm to Trailer
Helmed by an Austinite who sharpened his knives at the California Culinary Academy and, later, top-tier restaurants in San Fran, Aspen, and Austin, Odd Duck is an open-kitchen trailer that employs an old-school wood-burning grill to create a menu of locally sourced gourmet dishes that change each and every day, keeping your taste-buds on their toes, and your underwear extremely jealous.
When cooking meat, Odd uses the entire animal, then churns out Tasty like cheesy turnip duck leg quesadillas; grilled duck breast on ciabata with carrot radish slaw; fennel and apple soup (w/ grilled pork belly, farm fresh egg, turnip); and a white cheddar grilled cheese with pork shoulder braised using locally roasted coffee grounds -- making the pig's pledge of "you can kill me before I'll drink chain coffee" seem kind of pointless.
Creative vegetation includes green beans with goat cheese dressing, and grilled sweet corn with paprika aioli and Cotija cheese, a hard salty type from Mexico who despite right wing hand-wringing actually works twice as hard as most entitled white cheeses
The menu's constitution will depend on season and supply, but in the near future expect dishes made with game hen, lamb, and goat -- which despite the dance's simplicity, is exactly what you look like trying to do the zero-step.