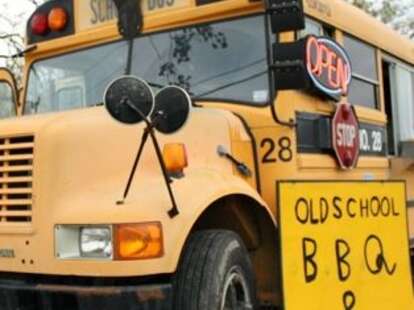 The back of the school bus was where the cool kids learned to curse, smoke, and amass a lifetime of bad karma for cursing you and blowing Kool in your face. Providing a more nourishing back-of-the-bus experience, Old School BBQ & Grill
Just opened at the corner of MLK & Clifford Ave by a culinary vagabond whose long-strange-trip's seen him both apprenticing to a master chef in Austria and head-consulting a California sausage house, Old School's an actual old school bus rigged with a full commissary kitchen and a two-chamber meat smoker welded right into the bus-frame. Their Angus Choice menu's simple and ever-evolving, including a brisket twice rubbed with 19 herbs/spices and cold-smoked for 20 hours, spare ribs pre-soaked in salt water to prevent dryness, and a Texas Jalapeno Kielbasa chosen from 189 different sausages -- a lineup that typically leads to a harried fluffer saying, "Houston, we have a problem". Served with Belgian fries, the just-$6 burger is a half-pound monster that blends two cuts (one steak, the other classified) on a fresh Swedish Hill bun, complemented by secret-recipe BBQ sauce obtained from a New Orleans cleaning-crew member in a three-for-one recipe trade, a Ricky Williams-type deal that hopefully won't end with the sauce moving to Canada, then becoming a time-splitter with Ronnie Brown.
Soon the bus will be adding pizzas with gourmet cheeses and homemade dough, baking their own buns, and hosting live music from bands who'll reward your "Wheels on the Bus" request with relentless curses and a face-full of menthol.