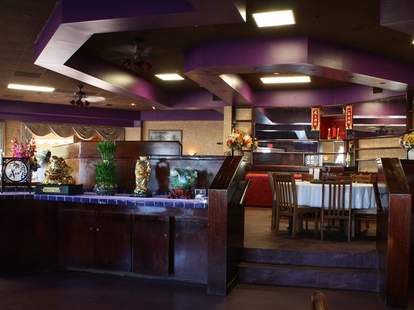 They say that variety's the spice of life, except on Dune, where the spice is life, and grows in Sting's fields of gold. Offering a weirding module staggering variety of Chinese fare, A+A Sichuan Garden.
Founded by an NYC Chinatown resident who saw an opportunity in Austin's booming Asian community, A+A ("the best plus the best") serves over 150 different southern Chinese dishes (generous with the garlic, chiles, and ginger) in a staggered-level, dark-wood space with purple accents throughout, four fish tanks, and Eastern ornamentation from banzais to a golden Buddha, but not Aqua Buddha, because he's constantly sticking his NoZe in other people's business. And telling undergrads "maybe you should kidnap some women". Meals are categorized by protein and numbered for easy ordering, with 19 poultry pleasures (Mango Chicken, Shredded Chicken w/ Beech Mushroom, boned Sichuan duck) and 23 porkers including twice-cooked bacon w/garlic sprout, sweet/sour pork chop, and stir-fried or Sichuan-style intestines (unless you're really hungry, order the "small"). Cow's repped by a shank stew w/daikon and a bitter melon job, while Mongolian lamb comes hot & spicy or stir-fried w/ chili; seafood's fulfilled by rotating whole fish options (served w/ spicy bean sauce or braised w/ scallions), a dozen shrimp variations, and exotics like boiled frog legs and braised sea cucumber, which're often called sea slugs or sea mice, but haven't been called sea UP since Miss Pomainville's class in 4th grade.
For app-age they're rocking house-made hot & spicy jelly noodles and boiled bacon slices served cold, as well as hot and dry pot dishes where you boil or sear your own meat right at the table -- a refreshingly different set-up that means you'll never have to ask "Whose ass do I have to Arra-kiss for service around here?"