Turn your feet into masterpieces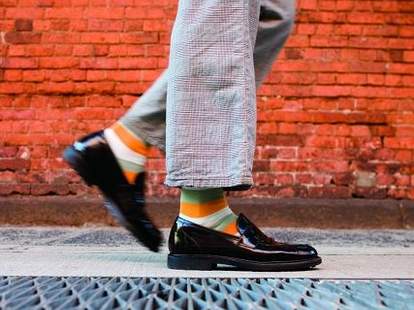 Art can be found in the most unlikely places, from the base of a knit-bombed street pole, to the troubled water underneath a bridge -- because that's what happens when you pester Paul Simon about royalties. Now, art can be found on your very own feet, with OW Socks.
Just into Service, OW is spearheaded by an NYC photographer whose years in Japan exposed him to the world of ludicrously festive socks-as-art, inspiring him to start his own line of "pets for everyday life to keep feet happy", because as Charles Barkley would say, sad feet are toe-ribble. The best of the insanely comfy, triple-stitched, 85% cotton mid-calf-ers are collabs with other artists, like the amber/white foam-topped Bier (complete with lines marking .5 liters), another depicting a snowy winter night inspired by 19th century Japanese wood blocks, and the Summer Yacht, with anchor insignia in sailor blue or reggae colors -- so when people say pot saps motivation, you can...totally take a nap in your totally comfortable socks. The rest of the goods range from flashier, rainbow-ish models, to eight single-starred varieties, to slightly more-traditional two-toned stripers evocative of the Nanny from Muppet Babies, whose tantalizing facelessness drove kids Gonzo.
Since there's more to life than even the most fabulous socks, the OW site also links to other projects like a small-batch release of Moroccan olive oil, a short film chronicling the search for San Francisco's last hippie, and a slew of mesmerizing black & white photos -- are you paying attention, Art? That's how you speak with the sound of silence.