The Weekend Playbook: Best Day of Your Life Edition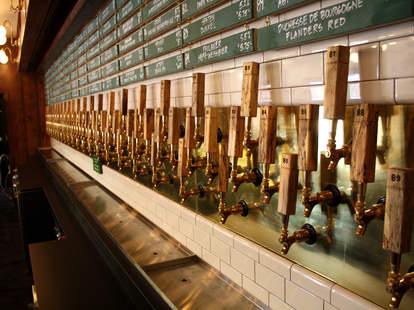 Event of the Week: Best Day of Your Life!It is upon us, the day foretold by ancient Greek celestriologists as the longest, awesomest, bestest day of the year. This Friday! We've charted a path through the ATX's most pleasurable destinations with deals like 2-for-1 tacos at Tamale House East and free beer at Banger's for those who get there early, and half-off pints for those who don't. Print out the itinerary here, and hit up the Facebook event page to see who else will be riding the fun train
Thursday, June 20thArthouse kicks off the inaugural night of a new multi-media series called the Tesseract. It has nothing to do with The Avengers, but does feature literary, cinematic, interactive, and musical contributions by everyone from McSweeney's authors to indie rock supergroup Tele Novella. What's a tesseract, anyway?
For the fit beer-lover, the Texas Running Company is hosting a Beer 5k (with the sequel on Saturday) where they break up the run with pint-stops at some of Austin's iconic watering holes. Sign up here!
Friday, June 21stThere can be only one... thing to do on Friday to cap off THE BEST DAY OF YOUR LIFE, and that's to head to The North Door for a Queen tribute band and a screening of Highlander. Tickets, thisaway
Saturday, June 22ndThe Austin Chronicle is enlisting an all-star cast of Austin emcee's for the Chronicle Cookout: a day-long hip-hop celebration at the Scoot Inn with brats from Frank and beats/rhymes from Phranchyze, the League of Extraordinary G'z, and lots more. See the full lineup
The Austin Brew Bus will be embarking on a journey to a mystery array of notable local watering holes and breweries. Grab a seat
Sunday, June 23rdOutdoor film series Cinema East takes over the French Legation for a screening of A Teacher: a Sundance-premiered flick about a student/teacher affair
Throughout the WeekendCraft cocktail documentary Hey Bartender! is playing at the Stateside Theater. We interviewed two of the stars on tips for opening your own bar; read their accounts here, then snag tickets
Did we miss anything? Aside from all this, what're YOU getting up to this weekend? Tell us in the comments below -- especially if it involves playing ToeJam & Earl.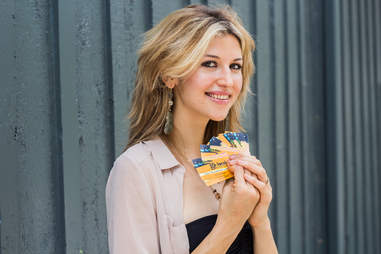 Local Girl We Love, and Where to Meet Her
Meet Gabi Tuschak, co-founder of the ubiquitously awesome Go Local card, which is so very ubiquitously awesome that you can use it to gain rewards at over 500 different ATX businesses. She's also an animator, a practitioner of facial intertuning and Ayurvedic skin care, and snorts when she laughs.

So the real question is, where can you find her? If she could have one super-power, it would be teleportation and if she could teleport anywhere and only had 10 seconds to decide, it would be Romania because she's never been to that part of the world. But until she scores said powers, you can find her at the bar of her former place of employment, Justine's (buy her an L'enfant Terrible!), or opting for holistic social lubrication with vaguely psychedelic Polynesian teas at the SquareRut Kava Bar.