You need just the right ingredients to appreciate electronic dance music, from a venue packed with hundreds of like-minded people, to a pharmacy staffed by just one like-minded person. Providing the venue: Kingdom.

From the Lanai and Barcelona industry vets responsible for bringing dubstep to Austin, this two-years-in-the-making club represents a complete re-imagination of a historic 5th and Congress building's ground level, by the architects of what's now the South Congress American Apparel (and might soon become...evidence). Pass through the alleyway entrance to find a Brazilian Redwood dance floor, plush red-leather booths, house-designed lighting fixtures shooting six prism-split beams, and, most importantly, a tipsy girl who's totally pissed at her boyfriend custom +15,000 watt sound system they feared might actually damage the building's foundations, causing them to equip the height-adjustable DJ booth with its own breaker in case of power overload -- though that Kanye song's totally over anyway. For lubrication they're mixing weekly cocktails from fresh juice, organic cane sugar soda guns, and lemon/lime/agave, or hit 20 taps including locals like Real Ale, 512, and Thirsty Planet, which to the joy of geeks everywhere, NASA recently reported isn't Mars.

Talent's provided by a stable of downtown jockeys like Filthy Rich, Jason Jenkins of KROX's Hypersonic Radio, and Remington Steel -- see the right pharmacist beforehand, and his music will Pierce right through to your soul.


Recommended Video
Fireball Whiskey Apple Pies: A Dessert Fit for a Frat Party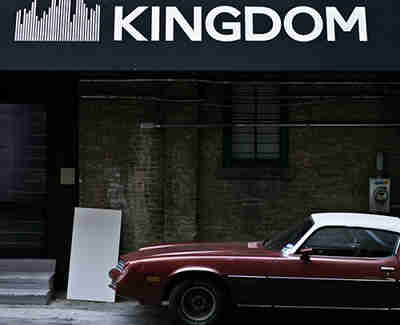 Previous Venue
Next Venue
Venue Description
1. Kingdom
103 E 5th St, Austin, TX 78701
Kingdom is an innovative, electronic dance club featuring local, renowned DJs that spin everything from dubstep to techno that fit into the dance genre. Try their selection of over 20 brews on tap including a few local favorites like Red Ale and Thirsty Planet or get down with a house-made cocktail.