Aviation-Themed Pie Spot Cleared For Landing at the Historic 'Top Gun' House
Head to the picturesque, beachfront property in Oceanside for seasonally inspired handheld pies served in a historic filming location.
Published on 5/11/2022 at 12:57 PM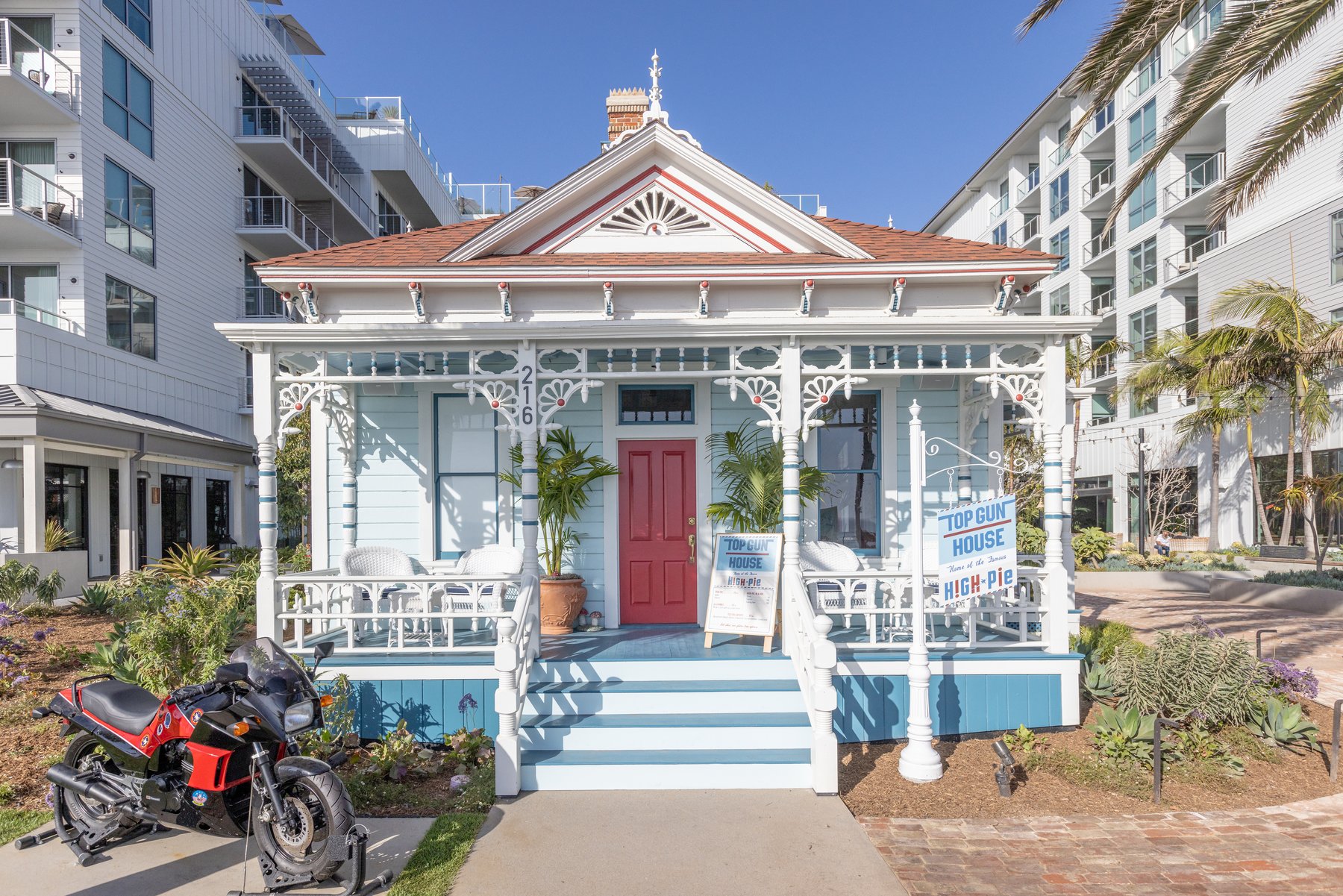 Exterior view of HIGH-Pie | Photo by Jakob Layman
From donuts to ice cream to fresh-baked apple pies in Julian, San Diego has no shortage of top-notch dessert spots. But The HIGH-Pie, a new aviation-themed pie shop that comes courtesy of Tara Lazar, the chef and restaurateur behind Palm Springs' hot spots Cheeky's, Birba, and Toucan's, is worth paying attention to—and not just because it's located in the historic, recently renovated home where the classic 1986 action movie Top Gun was filmed.
Moved from its original location on Pacific Street to the oceanfront courtyard of the new Mission Pacific Hotel, Top Gun fans will remember the home as Tom Cruise's co-star Kelly McGillis' residence in the film. After falling into disrepair, the 500-square-foot house was lovingly rehabilitated to historic standards by ownership group S.D. Malkin Properties, Inc., with the design support of Nicolò G. Bini at LINE architecture and under the guidance of the Oceanside Historical Society and Save Our Heritage Organization. Now, the Victorian-style cottage sports a patriotic color palette, with a welcoming front porch that features a hanging swing and potted palms framing a crimson red door. The renovated interior is adorned with retro signage, Victorian-era panels, vintage furniture, and an upholstered fireplace, as well as Top Gun set photos and historic images of Oceanside.
Interior view of HIGH-Pie | Photo by Jakob Layman
Interior view of HIGH-Pie | Photo by Jakob Layman
Named after its signature creation, The HIGH-Pie is sure to become a new favorite beachside snack. The handheld pie is perched on a popsicle stick for easy enjoyment and filled with compote from seasonal, locally picked fruit. You can order it in classic flavors like Apple and Cherry, or get it a la mode and enjoy a filling of house-made mascarpone ice cream that's fried and baked to order. The pies are available individually or in larger packs of three, 12, and 24, and offered alongside a selection of dipping sauces, including Charlie's Chocolate, Government Cheese, Lemon Curd, and Sea Salt Caramel. Paying homage to its historic location, HIGH-Pie packaging features a 1950s military design with Americana color palettes. To complement the pies, the bakery serves hot coffee alongside Apple Kombucha, Fizzy Cherry Cider, and Buzz The Tower, a New Orleans-style iced coffee with sweet milk.
Reflecting on the significance of the opening, Lazar said, "The HIGH-Pie is something I've been working on for almost two years now. To finally be able to bring it to life in such an iconic space like The Top Gun House feels like kismet. We had a lot of fun embracing the history and nostalgia of the space, while also incorporating our own spin, and we're approaching pie the same way—honoring the classic American dessert, but adding our own twist."
Interior view of HIGH-Pie | Photo by Jakob Layman
The new venture represents Lazar's first expansion out of Palm Springs. She made the move from low desert to the beach last spring, when she partnered with the highly anticipated Mission Pacific Hotel to open High/Low, a seasonal produce-driven restaurant serving breakfast, lunch, and cocktails, located within the hotel. The launch of HIGH-Pie in The Top Gun House represents the formal grand opening for the hotel, as well as its sister property The Seabird Resort, which serve as San Diego County's largest beachfront development in 50 years.
The Top Gun House, Home of The Famous High Pie, is open for walk-ins seven days a week from 10 am to 8 pm.
Danielle Dorsey is the West Coast Editor at Thrillist.