PF Flyers Spring Collection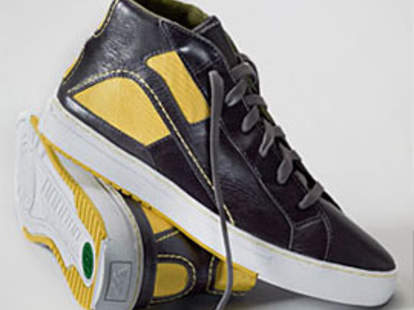 When it comes to advancement of materials, everyone knows Kevlar can save cops from 187s, and Nomex can reduce the frequency of firemen's horrible night terrors, but what about your boring-looking feet? PF Flyers to the rescue.
Just out, the Spring collection from Boston's own "Posture Foundation" takes some of the classic kicks that made PF's name and submits them to a makeover/upgrade using sleek materials like imported bead-embossed leather and iridescent metal -- which'll still be fashionable in the future, when everyone is part killing-machine. The realness commences with time-honored b-ball kicks like the toe-capped '56 Bob Cousy All-American featuring six colors (ivory, charcoal, metallic green, etc) and "exact-to-era" construction elevated by Italian oiled canvas uppers; and the 50s classic Center Hi or Lo rocking metal woven mesh, a diamond-patterned outsole, and its "trademark" transparent gum rubber ribbed toe bumper, for her viewing pleasure. For a mo' modern look, they've also got the Albin court low-top featuring "couture Italian" bead-embossed silver leather, and the lightweight, upscale Number 5 featuring six different uppers, from washed canvas & patent leather, to pearlized slate & brown Italian gull leather which sounds like it came onto, then stole your sandwich.
PF's also bringing it with a reissue of the hi-top 70s-era b-ball Glides, featuring a vintage logo and Italian galuchat/patent leather, and the clamshell-toed Grounder: fancified with leather and a way-chunky lugged outsole, PF claims it's a 40s era "baseball classic" -- prompting athletes everywhere to thank advancement of materials for relegating these clunkers to your boring, amateur feet.