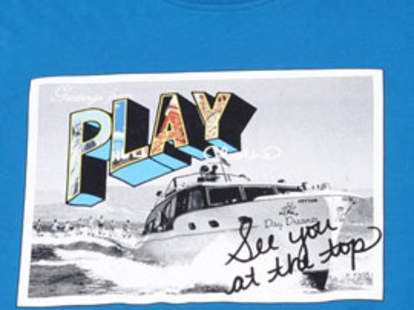 Everyone dreams of a leisurely sail around the world, with the wind whipping at your back, the sun in your face, and the slop bucket sitting in between your knees, as you drip bile from the mouth and beg the sea god Poseidon to take you now, before you kill real people for some Dramamine. Go nautical without the retched seasickness and desperate violence, with Play Cloths.
From hip hop artists The Clipse, this new collection of progressive street wear walks the line between work and casual, featuring lightweight shorts, graphic tees, button ups, hats, and leather travel accessories heavily influenced by nautical culture and the seafaring traditions of the well-to-do, like Thurston Howell III, and Captain Ron. New tees include the Real McCoy, a white crewneck with a green circular eel intertwined between four colorful nautical flags and the year "1977"; and Best Wishes, a short sleeve tee w/ '50's-styled post card graphic of a speed boat pulling water skiers that reads "Greetings from PLAY" and "See You at the Top", unfortunately also the same thing your hairline keeps saying to your scalp. Other lightweight shorts and shirts include the Blue Nose, a 100-percent cotton camouflage print cargo short; the orange/blue plaid Breezer Woven button down w/ sleeve epaulets and dual fastening breast pockets; and the olive 2-button collar polo with a "Jack Logo" applique known as the Latchkey, which is also really good at video games and fixing dinner for itself during the work week.
PC also sports an elegant collection of high-end black ostrich leather travel accessories such as passport and business card holders, a wallet, and a weekender bag w/ shoulder strap and two exterior zip pockets called the Dirty Duffle, certain to become even more so, especially if you don't keep an eye on that bucket.