South End & Back Bay Fall Tastings Tour*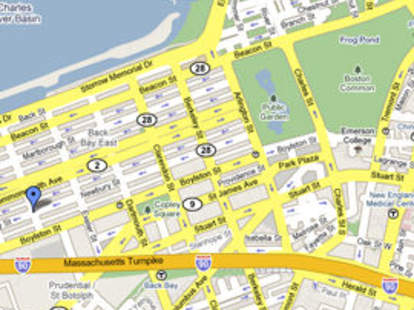 There's a nip in the air, and, also, it's cold out. Take down more than that nip, with this free tastings tour around the South End, Back Bay, and a touch of the Hill.
5pm:Charles Street Liquors (5-7pm)143 Charles St, btw Revere and Cambridge; 617.523.5051 Meet the owners of Vermont Spirits as they pour their maple syrup-based "Vermont Gold" Vodka, as well as one they triple distill from pure milk sugar called "Vermont White" -- providing the Green Mountain state with a vodka to match its ethnic makeup.
6pm:Deluca's Market (5-7pm)239 Newbury St, at Fairfield; 617.262.5990 Celebrate Western Mass as you sip Berkshire Mountain Distillers' vodka, rum, and Greylock gin, plus sample the Berkshire Brewing Co.'s IPA and Imperial Stout, also the name of a subclass of dudes way too short to be Vader's bodyguards.
6:30pm:Wine Emporium (5:30-8pm)474 Columbus Ave, at West Newton; 617.536.5545 Roll the dice as this 40-year-old South End mainstay decides at the last minute which of its 3,000 wines will start, and which will sit –- so, here's hoping Doc Rivers doesn't work at the Wine Emporium.
7:00pm:South End Formaggio (5-8pm)268 Shawmut St, btw Hanson & Milford; 617.350.6996 There's nothing fruity about this all-natural Cru Beaujolais, a rich, Burgundy-quality, earthy red that's on display along with a sampling of marcona almonds and a selection of Italian cured meats, which were nursed back to health using a steady dosage of exaggerated hand movements.
7:30pm:Brix (6-8pm)1284 Washington Street, at Savoy; 617.542.2749 Round out the evening with new vintages of Oregon's August Cellars Pinot Noir and Riesling, as well as Washington reds from Isenhower and Portteus -- a family vineyard that makes big red wines and draws up doctrines on how to beat them abroad.