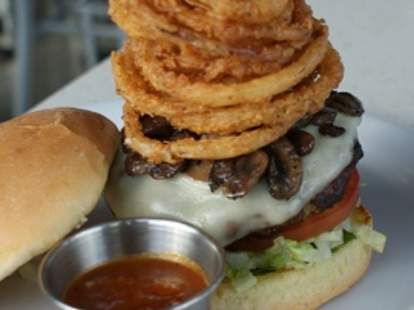 You can tell a lot about a man by his burger order, but by severely limiting those options, most establishments have cruelly conspired to rob us of this valuable meat-dentity. Letting you be you, The Counter, opening Monday.
Straight out of the city Everclear made briefly famous (Santa Monica), Counter aims to blow the meat-lover's mind with 312,120 possible burger combinations, all laid out on a scan-tron style menu (clipboard included) and served up in a sleek, industrial space dominated by a long white diner-style counter installed to create a "retro feel", much like the one you always wanted to cop off Cheryl Tiegs. Your power extends over all crucial elements: patty type (beef/turkey/veggie/grilled chicken), patty girth (1/3lb, 2/3lb, 1lb), cheeses (10, from Danish blue cheese to horseradish cheddar to sharp provolone), toppings (28, from tomatoes to fried eggs) and sauces, which range from roasted garlic aioli to caramelized onion marmalade (insert Paddington Bear joke here...if you've got the balls!). The less adventurous can choose from six signature burger styles, like the fresh ground beef/Tillamook cheddar/red relish'd Old School, or the jalapeno jack/dried cranberries/spicy sour cream Taco Turkey; there'll also be a burger-of-the-month (right now, the Kung Pao Shrimp Burger), and a shake-of-the-month as well, the current offering being Chocolate Brownie Coffee Malt -- described as a bunch of other stuff, and "just a hint of coffee," kinda like Starbucks.
Sides include grilled veggies n' herbs, mini burgers, fried pickle chips, and three kinds of gourmet fries. There's also a full bar loaded with local brews and Washington wines that, even now, are conspiring to ensure that all of your self-defining choices will be bad ones.