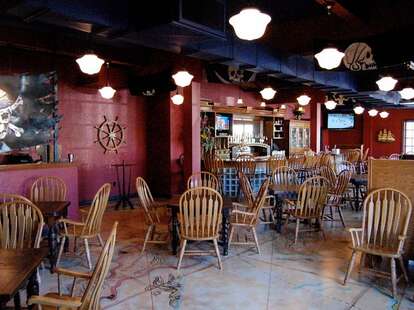 Everything's got a silver lining; like when pirates hijack the ship you're cooking on and you're forced to use your aikido skills to make out with the chick who pops out of the birthday cake. Also forced into its current level of awesome; The Jolly Roger Taproom.
Booted from their quaintly iconic location last year, Maritime's taproom (and whole brewery) are finally up and running again a few blocks away, with tons of new space in which to sling their renowned libations/pimped out pub grub while keeping their signature piratical decor, from the nautical inspired woodwork & antique glass, to the beaten metal skull n' crossbones flying at the entrance, to the floor painted entirely w/ a sea chart featuring fantastical locales like schooner inlet and lager cape, also an accessory that enables Stuporman to leap tall bail in a single bound. The polished wood bar rocks 15 taps (two cask) featuring their usual liquid awesome, like the Yakima/Czech Republic hops Islander Pale Ale, the Salmon Bay ESB w/ 4 types of malt, and the subtle roast flavored Nightwatch Dark Amber Ale; there're also rare/seasonal brews like the Navigator, which you can't find anywhere else, probably because it's hiding with Max at the bottom of the Gulf of Mexico. To go with their signature barroom steez, the JR's also serving an expanded lunch and dinner menu ranging from their Jolly Roger Ale battered/apple-wood smoked onion rings called Smokers,to the pan-seared Mahi-Mahi/Savoy cabbage/roasted jalapeno tartar Lil' Mahis, to the bite-size fresh ground beef/house sauced Lil' Jollys, which can also be gotten by going to 2nd base.
Additional liquidity comes in the form of mostly NW wines, and they've also got an extensive selection of bottles & kegs-to-go, perfect for when you find your booze supply unexpectedly under siege.