Success depends on recruiting the best talent, as the Seahawks proved in successfully recruiting Pete Carroll by challenging him to rebuild a winning franchise, and promising they'd buy Reggie Bush a house give him control of player personnel. For a resto chef'd by an in-demand Heisman-level talent; The Walrus and the Carpenter.

Rigorously recruited to anchor the new Kolstrand Bldg redevelopment, the French-foodtrix behind the Boat Street Cafe's opened this smallish oyster bar (named for characters from a poem in Through the Looking Glass) boasting salvaged wood/diamond plate flooring, a coral-reef-esque twisted-metal chandelier, and 45 bar-height-seats (plus 20 at the picnic tables outside) overlooking a polished-metal raw bar dominated by heaping baskets of shellfish, and a totally open kitchen, who claims to not care who his GF is forking. Water-sourced-noshes start with rotating varieties of NW harvested oysters served w/ champagne mignonette, and continues with house smoked trout w/ lentils & créme fraiche, salade nicoise w/ olive oil poached local tuna, and clams w/ fennel, pastis, parsley & cream, as clams rule everything around me(als) -- dolla dolla bils ya'll! Other grub ranges from preserved/fermented snacks (Sunset Bay Chevre & Ballard Honey, Dinah's Cheese & Boat Street Pickled Plums), to meatier options like an almond & mint relish'd serrano jamon w/ roasted apricots, and steak tartare w/ a farm egg yolk & rye toast, but not wry toast, which you always oooohhh burn

The W&C's also got a highly-curated wine list featuring food-friendly sparkling, red & white options, plus specialty 'tails like the gin/lemon/Ballard Bee Co. honey/mint Southside, the Henry's Old Fashioned w/ rye, orange & brandied cherry, and the Pimm's No.1/ gin/lemonade/cucumber Porch Swing, also the name of the final thing that ensured Reggie stayed a Trojan. Well, that, and $200 K. And the hot Kardashian. But that's it!
Recommended Video
Mac & Cheese With Bell Pepper Bowls, Because Dishes Are the Worst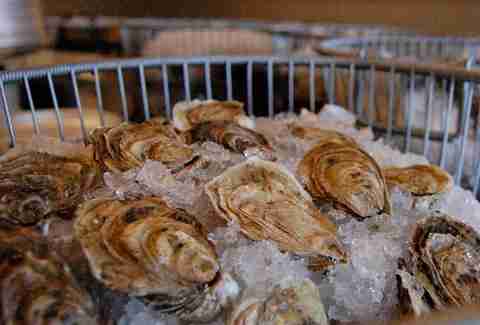 Previous Venue
Next Venue
Venue Description
1. The Walrus and the Carpenter
4743 Ballard Ave NW, Seattle, WA 98107
This chic oyster bar serves neither walrus nor houses carpenters (that we know of) but it does dish out mounds of delicious shellfish in a comfortable atmosphere. Additionally, this cozy, neighborhood spot -- which has been recognized by The New York Times also serves incredible desserts, with highlights being maple bread pudding and roasted Medjool dates.