Swigging from the family tree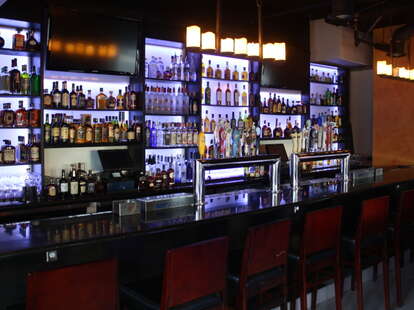 There's no clear path to becoming the "cool" uncle, though you can follow in John Stamos's footsteps by finding the smears of pomade. For a bar from a guy whose niece now thinks he's a "cool dude!": Mad Rose Tavern.
Named after his "crazy" niece, Rose sports a "fiery red" main dining room and cocktail lounge with stainless steel seats lining multiple cherry & granite bars, all bordered by a wrap-around patio stocked with all-weather couches, which unlike Carl Weathers couches, can actually survive when conditions get Rocky. "New American tavern" eats include four double-chops of New Zealand lamb with fingerling potatoes, mint mignonette, and green beans, a mild Italian pork sausage served with peppers in a red marinara sauce, and rice 'n beans bedding a blackened redfish, for which they use an old Louisiana recipe, presumably because their fish, of late, is already blackened. Beer heavy, they're pouring out 20 taps of craft goodness, with imports like a New Holland Kölsch brew called "Full Circle", and domestics like "The Love" Hefeweizen from Virginia's Starr Hill, and Terrapin's "Hopsecutioner", whose existence finally explains the lack of ups leading to their 5-4 record in the ACC.
If you're also anti-hops, they've got over 40 selections of Scotch (like the esteemed Macallan 25) and every Irish whiskey currently licensed to sell in northern Virginia -- just don't request them all at once, or you'll be asked to cut, it, out.