Cask-conditioned ales in Griffin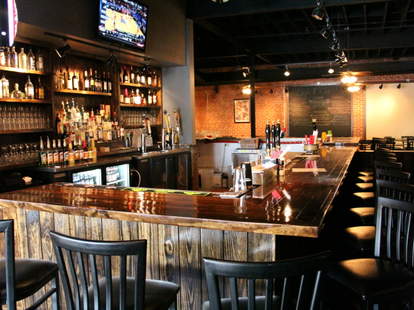 One of only three pubs in the US brewing cask-conditioned, unpasteurized "real" ale, Eagle & Lion is now open OTP south in a cozy old Coke bottling facility, and's housing a beer-creating setup brought over from the UK's Birmingham Brewery by beersmith/owner Mark Broe, who studied sudsmaking at the University of Sunderland after falling in love with the unique varietal of beer while working overseas as a chiropractor, and now is clearly all about giving back.
Those real ales are uncarbonated (meaning they've gotta be pumped by hand), are generally served at a slightly higher (but still delicious!) temp than you're used to, and include the bitter Golden Eagle Ale, milder Brass Monkey, Crafty Special stout, and single hop varietal Tupelo Honey IPA. They also carry 30+ bottles like Krombacher Pils and Unibroue La Fin Du Monde, plus drafts including Red Hook ESB, and Jailhouse Misdemeanor, of which you should order a more felony-like 5 to 10.
Ensure you can keep drinking beers named after crimes by downing twice-fried Belgian frites, Wisconsin cheddar & ale soup, an 8oz ground sirloin Big Ben burger, grilled bangers & mash, and Captain Horatio Horn Blower's beer-battered cod & chips, which even Hamlet's homie Yorick knew you don't just eat, you infinitely in-jest.
If you're a good boy and ate your bangers, you can get down on desserts like bread pudding, and Brownie Delight. Plus, some nights will host live acoustic sets from local bands, who'll neither fix nor take responsibility for that slipped disc you'll get dancing to their jams, but thankfully Mark's got your back.