A 19th century church turns spectacularly secular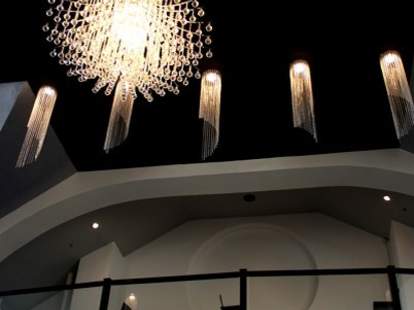 You can observe and learn wonderful things about ancient history by taking in a night at the museum, like why casting Mickey Rooney in a children's movie is a really bad idea. Grand-opening tonight, and promising not to become the shame of Ben Stiller's career, again, Museum Bar.
Transmogrifying an 1800s-era church into a restaurant/ bar/ lounge, Museum's a 15000sqft, three-level, five-bar tabernacle of good times, with a gold-carpeted canopy entrance from RDA, 17 crystal chandeliers, black church pews, an underground area with Gothic lamps, a bed-furnished VIP zone, and a concert stage ringed by the building's original stone wall, who's apparently still too pissed at the Civil War's outcome to stay dead. While brews and wine are available at all the bars, the showstopper's a 10ft-tall, cobalt blue "Vodka Bar" with 50+ clear spirits selected for their smoothness, plus specialty cocktails like the Museum Martini: blue electric lemonade with a Pop Rocks rim and a smoking layer of liquid nitrogen on top, so it's like "a storm in your mouth", something the real Halle's already experienced through her X-Men. The kitchen's led by Jason Ellis of Hell's Kitchen fame, who's whipping up apps like white chocolate-drizzled lobster w/ wonton chips, smoked molasses BBQ beef ribs, smoked king crab legs in Moscato garlic butter, and a Sunday brunch with stuffings like orange sesame ginger "Wings & Waffles", which you'd normally have to hit both the "Nice Price" CD bin and frozen sections to find at Wal-Mart. Chea!
They're also partnering with Cami Cakes and'll have an in-house bakery for pies, cakes & cupcakes. Be there tonight for the $1,000 Battle of the DJs, and take the GF tomorrow to see a live performance by Fantasia, not to be confused with the old Disney animation, which at least features a Mickey who isn't visibly dead.