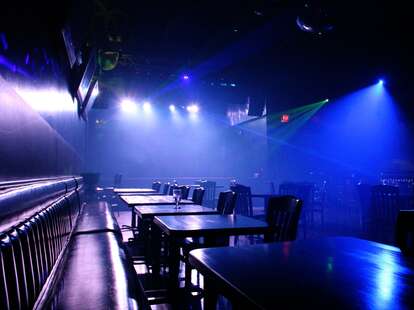 For all the crazies in EAV (potentially including the dude in that car always blasting Seal songs), there's now Asylum, a wild-out free-for-all that's half-dinner diner, half-disco-balled concert hall with sick laser lights. Starting at 11:30a daily, the lunacy will also include
Loony pizzas like the $100 (seriously), ultra-schizo Crazy Capobianco w/ Champagne-infused caviar, Cognac-marinated lobster, prosciutto, truffle oil-drizzled duck breast & 24k gold flakes, plus the slightly cheaper alfredo-/ white fish-/ salmon-topped Moby Dick, which you'll eat until you have a hump like a snowhill.
Sweets like deep-fried Twinkies w/ choc dip sauce, or ice-cream-sided French toast "styx", so be sure you say "thank you very much" in Japanese, then dance like a robot.
Sunday brunch, plus a to-come, super-late-night breakfast-to-go menu they'll start about a half-hour before closing, so "everybody gets the smells of bacon", although hopefully not from Tremors when he was all sweaty and covered in monster-worm guts.
19 drafts (Red Hare Long Day Lager, etc), lotsa whiskey (Bulleit Rye, Glenlivet 12 & 15yr), and specialty shots like one that's half-Jack, half-Yukon Jack, half-awe... wait, all awesome.
Three VIP upstairs rooms, one with a vintage Coke refrigerator, bathroom, and "just for bands" private shower, so hopefully the guy in that Seal car is in a band.