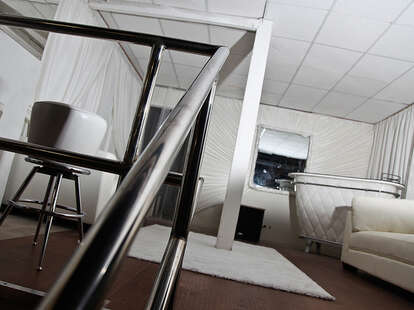 If you've seen the movie Memento, you know that memory loss can lead to some pretty crazy stuff, like tricking your forgetful self into committing murders, or hanging out with Ned Ryerson, on purpose. For a night to remember, get to this weekend's grand opening of Amnesia Bar & Grill.
Popping up just northwest of the Camp Creek Marketplace, Amnesia's an improbably swanky lounge of Mexican eats and fly nightlife, loaded with crystal chandeliers, bronze banquettes, dual granite-topped bars, and two waterfalls, neither of which you should go chasing, if only because they don't really move, so it won't be very fun. Come hungry and chomp on shrimp or fajita chicken/steak soft tacos w/ homemade tomatillo or red ancho salsa, 8oz carne asada steaks, or your choice of meat in deep-fried flautas, burritos, and enchiladas; after 10p, there's a gringo-pleasing menu that includes cheeseburgers and fried calamari, aka, Admiral Ackbar before he screamed "It's a wrap!", then quickly ate said wrap, and went back to watching Aqua Teen. Keep yourself rolling with ecstasy bottled domestics and imports, plus house bevs like the Long Island-esque "Amnesia", then jam to soul/ r&b/ hip-hop/ funk from guest DJs including Nabs and Red Alert until they unveil weekly nights like live-jazz "Way-Back Wednesdays", though they'll hope you don't find yours after requesting Spyro Gyra.
There's also an all-white VIP upstairs with its own private bar, and once MNF starts you'll be watching games on a gargantuan projector screen that covers an entire wall. Also coming: concerts from singers such as Christopher Williams and Al B. Sure, which is something the Memento dude couldn't say about anything, except the fact that he has impeccable fashion sense for a dude with 20 seconds of memory.