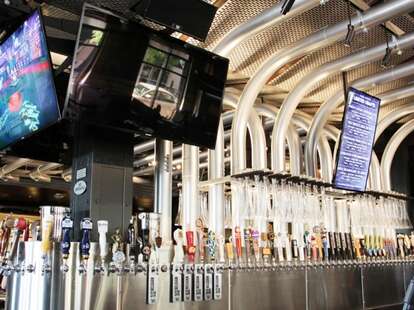 Beer is good. Giant beers are better. And now you basically know the mission statement of Yard House, the new Atlantic Station beer-lab-ish stronghold that boasts a huge central island bar whose taps connect to a glass-enclosed keg room just above your head via five miles of insulated tubing, keeping the suds between 34 and 36 degrees (98 Degrees is too hot in every way imaginable).
Ready your stomach for zee beer by digging into a sprawling menu that ranges from roasted turkey pot pie, pizzas (spicy Thai chicken), and burgers like the Surf & Turf (beef w/ garlic-buttered lobster), to the Crab Cake Hoagie, Korean pork belly tacos w/ kimchi, and the raw ahi Hawaiian Poke Stack, although if you ask female patrons if they're into it, you'll more likely get a Hawaiian Punch
With the base in place, chose from a ridiculous 130 taps (which feed everything from pints to yard-long goblets), including limited-run locals like 10% Terrapin 10th Anniversary white ale, and SweetWater Fresh Sticky Nugs double red, plus rare non-locals like dark Belgian Gulden Draak and Port Brewing Shark Attack Red, which only comes in a goblet, so hopefully Quint's there to show you the way to go home. 'Cause you'll be tired and wanna go to bed
For dessert it's a draft beer float w/ vanilla ice cream & Young's Chocolate Stout or Framboise, which you can enjoy while hearing tunes that "can be changed in an instant to reflect the restaurant's real-time demographics"... oh God, Yard House. Step away from the 98 Degrees CD. STEP AWAY!!!