The Dow might rise and fall, but your Jones for alcohol is a constant. So, head to Brew Exchange: the latest W 6th watering hole from the Kung Fu Saloon guys, featuring 72 taps whose prices are displayed on 75 feet of scrolling LED ticker, and fluctuate based on demand, thus leading to some great bargains, and potentially the most expensive Lone Star in town.

Formerly Annie's West, the 200-capacity space has been transformed by Chioco Design (Star Bar, Perla's, Lavaca Teppan) with a patina-ready Cor-Ten steel facade, a snaking concrete bartop, herringbone-patterned wood paneling, copper tap walls, a windowed keg room, sound domes over the booths to isolate the audio from the TV closest to you, and light fixtures made of old beer bottles, thus making them the second most expensive Lone Stars in town.

The tap lines are glycol-cooled for maximum coldjoyment, and star 25 locals from the likes of Austin Beerworks (Pearl Snap, Peacemaker), Circle (Epic Hop Bock, Nightlight Dry Irish Stout), Thirsty Planet (Thirsty Goat, Buckethead, Yellow Armadillo), Jester King (Black Metal Victory Storm King), and Twisted X, whose Fuego arrives slightly less so thanks to the glycol.

More craftiness includes five Belgians (Maredsous Brune, Chimay, St Bernardus, Duvel, Houblon), American strong ales from Stone (Arrogant Bastard) and Dogfish Head (Palo Santo Marron), and coffee-flavored choices like Lagunitas Cappuccino Stout and Great Divide's Espresso-Aged Yeti -- confront that, and your own Kung Fu will be useless.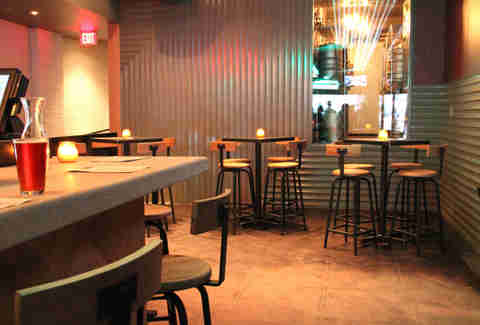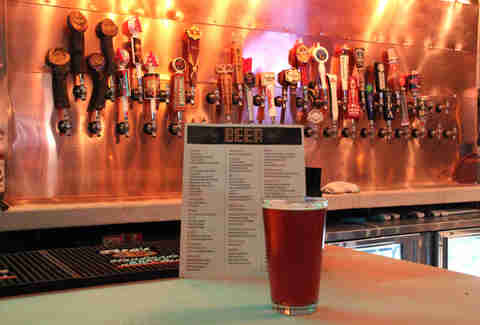 Previous Venue
Next Venue
Venue Description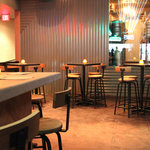 1. Brew Exchange
706 W 6th St, Austin, TX 78701 (Downtown)
Quit putting all your stock into the Dow, you're not really sure what that is anyway. Instead ditch the suit and opt for early happy hour at Brew Exchange. Here you can invest in a lager or an IPA if you're feeling hoppy and adventurous. There are over 100 beers to choose from and the prices fluctuate nightly based on supply and demand. So get a jump on it and beat your neighboring imbiber the stout tonight. See, now wasn't that easier than navigating your stock portfolio (whatever that is)?