Because green building laws keep Willie from opening a bar in Austin, check out the Rattle Inn: a West 6th honky tonk from clearer-eyed renegade country legend Ray Benson of Asleep at the Wheel, as well as the nightlife all-stars behind neighboring Ranch 616 and Star Bar, who're hoping this place'll be supergiant.

The main barroom oozes dusty Southern via taxidermy raccoons pawing at bags of Lays and an armadillo nursing a Lone Star, as well as coat rack-equipped rattle-skin booths and a bathroom wallpapered with pin-ups; outdoors there're Jack Daniels barrel tables and a second-story patio where antlers are intertwined with Christmas lights, which apparently is a terrible idea for camouflage.

The music happens in Ray's Backstage, a partitioned area with a red-curtained stage, walls strewn with memorabilia from Benson's career (photos successfully hugging Dolly Parton!), and a bartop embedded with AatW 45 singles, where you'll perch to hear nightly live tunes ranging from songwriter Wednesdays (kicking off February with Dale Watson) to country dance lesson Thursdays, steps you'll surely pick up quick quick slowly.

Dancing lubrication's provided by cocktails like 616's iconic Ranch Water (Hornitos Reposado, fresh lime, Topo Chico, Patron Citronge) and the Honey Badger (Hendrick's, St Germain, soda, lemon/lime juice), as well as boot-shaking shots like the Republic Plata tequila/Monin Habanero lime syrup Texas Heat, proof that when there's fire, there doesn't necessarily have to be smoke.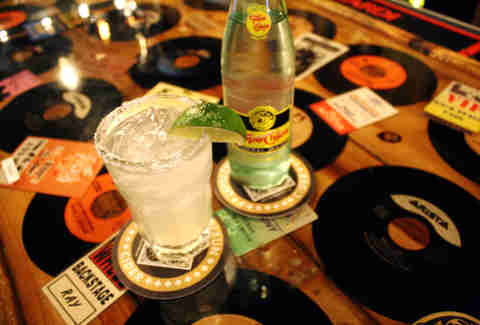 Previous Venue
Next Venue
Venue Description
1. Rattle Inn
610 Nueces St, Austin, TX 78701 (Downtown)
This West 6th honky-tonk supplies live music, dancing, and fun, Lone Star-inspired signature cocktails like the "Ranch Water" (Hornitos Reposado Tequila, Patron Citronge, and fresh lime juice) and "Rattle Rita" (Effen cucumber, habanero lime syrup, fresh lime juice, and a splash of soda). Equally important to the drinks is the roof, which provides much-appreciated shade in this oven of a city. Check out the happy hour, when cheap drinks pair perfectly with free Skee-Ball!