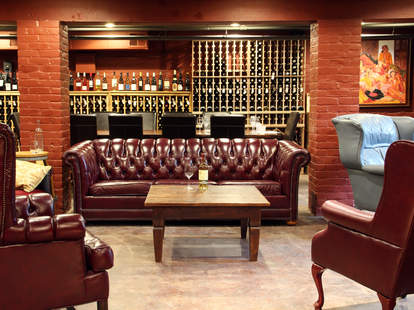 Two very important things are happening this Summer: the Red Room Lounge has opened, giving you an unmarked, underground speakeasy for the consumption of vinos by the glass, and...and...oh, right, the Olympics. To honor this confluence, we tapped Red Room sommelier Bill Elsey to compare some of his favorite bottles to types of Olympic athletes -- a harebrained idea that actually worked, because this dude really knows his stuff
Marc Hebrart Champagne MV"The rock-star gymnast, it's groomed from a young age to shine on the big stage, in the same hands all the way from the growing of the grapes to the release of the wine. It shows finesse, purity and elegance, but as you see it rocking the rings, you know it's strong as hell.
Evening Land Chardonnay 2010, Arroyo Grande, CA"The beach volleyball player: beautiful, blonde, tan, looks great in a swimsuit, but also has a Master's and plays an instrument. It shows the character of being grown in the warm Cali weather, but has more balance and depth than you might assume from looking at the surface.
Cantine Barbera "La Bambina" Rose 2011, Sicily, Italy"This is such a versatile wine, not quite white and not quite red, similar to the decathlete in that it's not the best in any one category, but when it comes to appeasing all, it's a perfectly well-rounded Summer beverage.
Wings Cabernet Sauvignon 2004, Napa Valley, CA"This is like a veteran shot-putter who's finally reaching his full potential late in his career. It has all the characteristics of being big and powerful, but with some time and age in bottle, has become more polished and elegant.
Gramercy Cellars Syrah 2008, Walla Walla, WA"A full-bodied dry red that shows character of both the New & Old World (New meaning fruit forward, Old meaning earthy and non-fruit notes). Like the American soccer player on hiatus from his European club, the international stage is nothing new."