For a cantina scene where there's no ambiguity about who shoots first, check out Cantina El Milamores: the back bar of Takoba, now hosting a mezcal-focused cocktail program designed by the dude who opened the Grackle, and a giant, somber mural of a 1930s Mexican actor done by Federico, most well-known for the musician stencils at the Drag's iconic Varsity Theater Tower Records Intellectual Property Qdoba


To guide you through the smoky flavors of tequila's rough-around-the-edges cousin, they're serving mezcal flights (augmented by Oaxacan cheese, chili powder, and oranges) ranging from the Beginner (three types of Scorpion), to more specific taste-ventures showcasing factors like altitude (expressed through Del Maguey Single Village varietals grown at different heights) and region, via the States of Agave, which give politicians nightmares because they're all loose enough to be swing states


New cocktailage ("Tragos") includes Old Fashioned takes with mezcal, tequila, and sotol (like mez but made from the Desert Spoon plant), and signatures like the Oaxacan Devil (mez, creme de cassis, fresh lime juice, ginger beer) and the rum/ mez/ fresh lime/ Maraschino/ grapefruit Hemingway en Oaxaca. Longtime Takoba fans fear not, as they're still slinging old favorites like the Mango Habanero Margarita, powered by a pepper that your Hans should avoid contact with if you plan on pulling your pistol anytime soon.
Recommended Video
This Bar Only Serves Asian-Inspired Vegan Pub Food
Previous Venue
Next Venue
Venue Description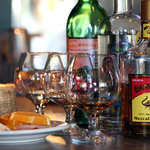 1. Cantina El Milamores
1411 E 7th St, Austin, TX 78702
One of the two fully functioning bars in East 7th's modern fiesta-themed Takoba, Cantina El Milamores is the calm countersuit to the restaurant and additional patio bar, with low candle lighting, sleek, spacious wooden booths, and iconic murals. As you'd expect of an authentic Mexican bar, the offering here consists mostly of rum and tequila with a fruity flavor pallet. Those seeking the rel deal should go straight for the mezcal flight, a smokey liquor sample with creamy Oaxaca cheese and chili powdered orange slices.