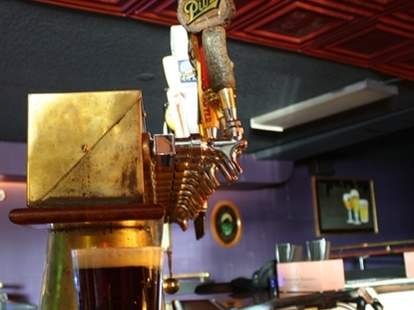 Monopolies are great -- they streamline production, give a sense of trust and expectation, and keep that arrogant top-hat from treading wherever he damn well pleases. Further strengthening an Eastside boozing monopoly, The Grackle
Proof that you can't have too many laid-back beer & liquor dens, Grackle's just been opened in the former Primo's by the team behind Shangri-La, The Good Knight, Rio Rita, and Eastside Showroom; it's outfitted with a pure brass counter-mounted tap-tree, matching wood treatments throughout, a 3-board dart corner, and a dimly lit pool table, which makes it tough to see balls, but also tough to see whoever might be laying their hands on yours later on. The sud selection's currently the largest in the '02, with 15 taps ranging from local staples (Fireman's 4, Live Oak Pilz, Shiner), to out-of-towners (Brooklyn Lager, Milk Stout, Arrogant Bastard), to passport-carrying pints like Belhaven and Boddington's; there're also bottles like Storm King Stout, Dogfishhead 90 Minute, and Rogue's Dead Guy, who'd give anything for another 90 Minute. The liquor cabinet's not fooling around either, with a focus on small-batch bourbons like Corner Creek, Four Roses, Blanton's, and W.L. Weller, as well as ryes including Rittenhouse, Sazerac, and Old Overholt; after building a war-chest of brown, they plan to expand to high-end tequilas and mezcals, although it's not really that difficult to bottle up Dennis Rodman

On the hunger-busting side they're rocking tacos from veteran trailer Taco Selene, as well as poaching the East Side Kings trailer from 96 Bar -- because when it comes down to it, you can lure anybody onto your property with a sack of money, or a cannon.