Not an indication that Wall Street's now trading bundled atmospheric conditions, Weather Up is the Austin offshoot of an NYC classic cocktail lounge that's made over the former Shuck Shack with subway-tiled ceiling arches and custom block light fixtures. The dimly lit den offers 14 pages' worth of drinks, served with what Vanilla became when he could no longer afford a tattoo artist: hand-carved ice


The menu's broken down by spirit and preparation (rocks, served long, stirred up...), with whiskey numbers stretching from the Rattlesnake (rye, absinthe, egg white, Angostura bitters), to the bourbon/Islay Scotch/maple syrup Don Lockwood -- named for Gene Kelly's Singin' in the Rain character, it will give you a glorious feeling that hopefully won't lead to dancing in the same precipitation


If you fear the brown liquor, try the Moonraker #1 (Cognac, Lillet Blanc, peach liqueur, absinthe), the Don Gorgon (cachaca, Aperol, demerara syrup, fresh cinnamon), or the tequila/house ginger syrup/creme de cassis El Diablo, which'll heat you up even in a Blizzard

Even if you're not hungry you'll think you are, so they're also slowly unrolling small bites like sockeye salmon tartare treated with mezcal -- at this place, even the fish is drinking the stuff that makes guys think their stock is soaring.
Recommended Video
This Whisky Company's Interview Consists of Traveling the World & Drinking Booze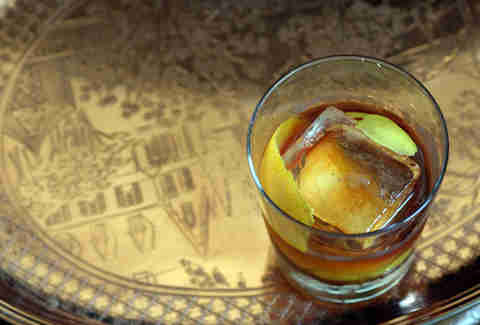 Previous Venue
Next Venue
Venue Description
1. Weather Up
1808 E Cesar Chavez St, Austin, TX 78702
Coming to Austin via NYC, this sophisticated cocktail haunt's wide selection of cocktails are categorized by their respective spirit, allowing for a "Choose Your Own Adventure" style experience. A large, outdoor garden area makes this the perfect place to imbibe when the weather's looking...well you get it. Booze isn't the only thing on the menu here, though; we like to do brunch here with a spicy Bloody Mary and picks from their fancy brunch menu which is still somehow flying under the radar.