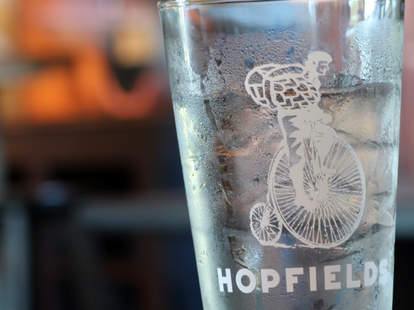 Proving it doesn't take a blight of Phylloxera to turn the French off of wine is Hopfields, fusing beer nerdery and French street food in a cozy space that moves mid-century France (church pew seating, vintage beer crates lining the bar) into the City of Lost Children via touches like mismatched silverware, bare filament bulbs, and copper-accented walls ("Hey, we're gonna get some food, see?").
The 39 taps extend in flying V formation, and spew local selections from 512 (Bruin, Porter, Pale, IPA), Austin Beerworks (Pearl Snap, Peacemaker), and newcomer Eastciders; out-of-staters including Dogfish Head (90min IPA, Indian Brown, Punkin Ale); and Bavarian brothers like Aventinus, Trappistes Rochefort, and Bockor Bellegems Bruin, which you can drink out of a bowl even if it only wins six games.
Served 'til midnight every day, eats are cooked according to old Parisian family recipes, with staples like steak frites and ratatouille, sandwiches including a brie burger and merguez sausage on baguette, and a tarte aux tomates that's much like a deconstructed pizza (in fact, it's not pizza, it's Derridigiorno).
On the cocktail front, they've enlisted a Peche vet to craft concoctions featuring ports, rare vermouths (including La Questa, a Spanish wormwood number only available in one other US bar), infusions (coming soon: a horseradish sake for Bloodys), and house bitters, probably because he didn't listen when Omar Epps told him the wine wasn't dying because of Kawasaki's Disease.