The right setting's essential for certain projects -- Jack Nicholson had to hole up in a creepy old hotel to finish his next novel, and U2 had to hole up in Morocco to record a world-vibe that'd terrify more people than The Shining. Now crafting farmhouse beers on a farm (and throwing a big-ass party to celebrate), Jester King Brewery. On Saturday the 29th, Belgian aficionados Jester King grand-open the doors to their middle-of-nowhere-ish Dripping Springs farmstead, where they've reconstructed a 1930s machine shop (torn down and moved over from Victoria), and built a chandeliered bar in an old barn, where hay for the horses has been replaced with hey-get-down-from-that-chandelier. The event celebrates their first saison, the Animal Farm-referencing Boxer's Revenge, an earthy Old World brew fermented with wild yeast in oak wine barrels for nearly three months; they're also pouring winter-seasonal Black Metal Imperial Stout, a whiskey-barrel-aged version of their Commercial Suicide, and Witchmaker Rye IPA, named for fungus-infected rye that may've caused hallucinations in 1600s Salem, though how does that explain the dark powers of David Blaine?! For satiation they've invited vendors including upstart food co-op Happy Hobo, eastside trailers Vasquez Tacos and Old School BBQ & Grill; food for the ears comes courtesy of four bands (including Rattletree Electric), and there's also entertainment for the...eyes from the likes of the Austin Facial Hair Club, and classic car crews Kreatures, The Meatheads, and The Strugglers, who try as they might, simply can't pick up the Tempo. Should you miss the party Jester's suds can now be found on rotating taps at diverse spots from the Draught House, to Crown and Anchor, to Cheer Up Charlies -- but if he's listened to latter-day U2 he can't, because "No Line on the Horizon" is an Atomic Bomb that simply can't be Dismantled.
Recommended Video
The 'Game of Thrones' Pop-Up Bar Is Now Open in Washington, DC
Previous Venue
Next Venue
Venue Description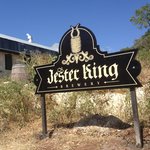 1. Jester King Brewery
13005 Fitzhugh Rd, Bldg B, Austin, TX 78737
Located in the heart of Texas Hill Country, this bespoke craft brewer puts out both year-round and limited edition beers with witty monikers. Get your hands on these sough-after ales and lagers, including a heavy metal inspired farmhouse imperial stout ("Black Metal"), a mild, lemon-y Pilsner malt ("Vulgar Affectation"), and a fig-fermented smokey Munich style brew ("Figlet").