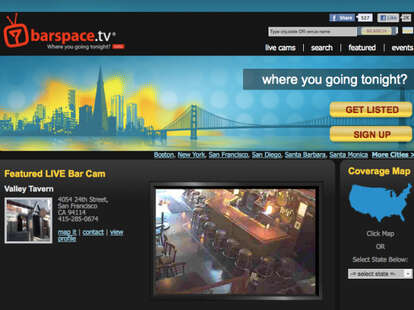 They say that no one likes to drink alone, though most of the time that's followed by "...with Ben Roethlisberger". Helping ensure you'll never be subject to that fate (or court case) again, Barspace.tv, now available at more than two dozen SF watering holes.
From two Sonoma State grads who met on a party bus to a Warriors game, Barspace is a sounds-sort-of-creepy-but-still-intriguing service that lets you peek in on live streaming camera feeds at over 165 bars/nightclubs from the comfort of your computer or cell, unless said cell has the type of bars that don't give you service. The cameras, which're installed and paid for by Barspace, stream during hours set by the venue (Bar None's operates from 9pm-1am, while Make Out Room's starts and ends a half hour later) at one image per second (30 times slower than a normal feed) and -- in order to avoid potential privacy issues/actually seeing people's faces -- the images are all marginally degraded, like shots of Khloe Kardashian at a pool party. Perks for using Barspace, other than knowing which bars are crowded (and, more importantly, what everyone at them is wearing!), include constantly updated, venue-specific deets on events, announcements, and drink specials, which'll include everything from $1 off Red Bull cocktails at McTeague's, to Holy Cow's $1 domestic beers and wells, a combo that was huge for the Yankees in 1998.
Aiming to double its presence locally by the end of April (29 of the 165 cams are in SF proper), Barspace hopes to reach 750 nightlife spots by the end of the year in a half dozen or so states, with the potential to eventually expand overseas to places like London, where, unfortunately, you have little choice but to drink in the company of Big Ben.