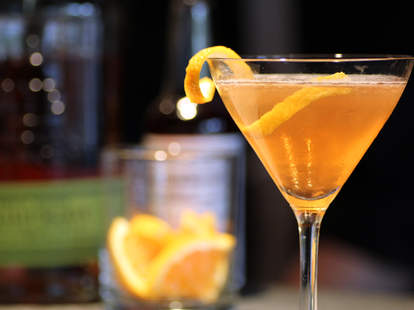 The Irish pub Harvard students often refer to as "that place we always walk past before crushing equations at the Clay Mathematics Institute" has revamped their cocktail menu in a big, fancified way, making it so damn crafty, Robert Kraft was actually going to sue them until he looked up the spelling. Order these immediately:
Killer Bee: Likely referencing those bugs the entomology-obsessed Wu-Tang Clan were always warning people about seeing "on the swarm", this number will sting your mouth with gin, Combier Pamplemousse, Tiki bitters & honey-mint simple syrup.
The Golden Hynd: The Golden Hind was an English galleon captained by Sir Francis Drake that circumnavigated the globe in 1577, which may explain why the Golden Hynd fights scurvy with fresh orange & lemon, then fights sobriety with Privateer amber rum, Tiki bitters & honey simple syrup.
Legacy of Augustus: Though most people think the founder of the Roman Empire's legacy is best represented by his annexation of Dalmatia and Pannonia, you're excused if you think it was making a cocktail out of Bulleit Rye, housemade ginger liqueur, Peychaud's Bitters & maple simple syrup.
Third Circle: This is both a drink made with mezcal, housemade jalapeno vodka, and muddled cucumber & orange, and the number of times most Harvard students walk around the block, before ginning up the nerve to try and enter an actual bar.