Craft cocktails and billiards in Downtown Crossing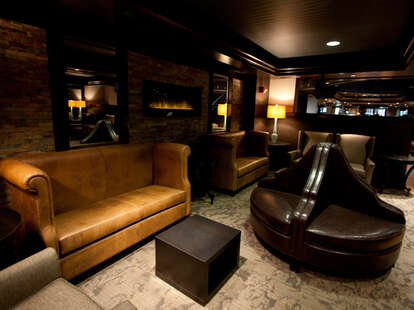 Opening Saturday, the dudes behind 6B & Emmet's have turned the two-floor former Talbots into Scholars American Bistro & Cocktail Lounge, a spacious 300-seat restaurant/bar/billiard lounge hybrid decorated w/ slate stone walls, leather shoeshine chairs, a gas fireplace, and a ballroom-esque staircase that leads up to a 12-seat Martini bar and four-table pool room. But before you head over to the place where you used to buy loose fitting womens slacks, check out these highlights:
Heartily Consume: Dinner picks like toasted sesame-glazed apple cider pork belly w/ an apple hash; an NY strip au poivre in a Hennessy cream sauce w/ smoked blue cheese mashed; and lasagna cupcakes in a chipotle marinara alongside a Rapunzel salad, which, unlike the fairy tale, actually would be a let down (if it involved) your hair.
Daintily Snack On: Apps include BBQ baby backs with tobacco road onions, fried pickles in a house aioli, and craziness like braised beef "tongue sliders", also a version of Jerry O'Connell's hit show that could only be seen on pay cable.
Sip up: They've got 16 sudsy craft draughts (plus 25 more in bottles) like Widmer Brothers Drifter Pale Ale and Kona Longboard, as well as an elaborate 30-option "school-themed" cocktail list chock full of house-infused liquors that includes the 1822 (bourbon, Punt e Mes vermouth, Angostura bitters), the Spring Break (rum, lime, bitters & nutmeg); and The Dropout, which features Racer 5 IPA and vodka blended w/ seasoned salt, which is what the producers considering calling it when they briefly replaced Angelina with Betty White.
Photo Credit: William Horne