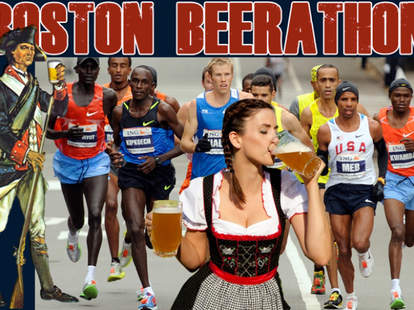 You know how the Boston marathon is extremely hard and intense, and, by the end, can often leave people broken, confused, and wondering why in the hell they ever thought it was a good idea to attempt such a thing in the first place? Well, it just got some competition in the form of the Boston Beerathon.
This first-ever, kind-of-insane event is an all-day drinking crawl in which you'll be given the opportunity to try and consume 26 beers at 26 different Boston bars (ED NOTE: You don't have to finish! No one will judge you! Go at your own pace! And other stuff lawyers would likely point out). It works like this: after scoring your $25 ticket ($20 if you sign up as a team, hopefully named "The Uta Pippigs"), you'll join thousands of "competitors" at one of three check-in spots (The Wild Rover, Mija Cantina & Hennessy's) to check in! Come on, focus grab your all-access pass/ special course map and begin your epic quest by winding your way through all those Faneuil Hall and FiDi bars you loved at 22, like Durgin Park, Bell In Hand, and, yes, even The Place. While the brews aren't included (that would be against the law, son!), expect some choice craft suds like Hooker Blonde Cream Ale and Troegs Dead Reckoning, dollar drafts of definitely-not-craft-suds at 22 of the 26 locales, and life-prolonging food deals.
As this is a crawl, costumes are certainly encouraged, though once the ladies pale at you dressed as 1996 Boston Marathon winner/bowel mover Uta Pippig, you too may be wondering why in the hell you ever thought it was a good idea to attempt such a thing in the first place.