Sure, sometimes you want to go where everybody knows your name, but sometimes, you want to go where everyone's had so much tequila they forget, and just start wiling out and triple-kissing and stuff. Because Senor Frog's Framingham is still stuck in R&D, head down to Mija Cantina & Tequila Bar

Opening tomorrow in the former Cheers' Sam's Cafe, this upscale-ish 300-seater's set to lure in the after-work FiDi crowd with an inordinate amount of Mexican fire water, a hybrid lineup of Latin/American vittles, and a well-lit greenhouse space sporting a sun-shielding wood slat ceiling designed to cut down on glare, but do little to prevent mean-mugging. Authentic SoBo (South-of-the-Border...spread it!) deliciousness includes 11 styles of taco (like lobster jalapeno with lime mayo, braised short rib & jicama, and chile-rubbed tuna with tequila soaked slaw), plus pork quesadillas with poblanos rajas, and a juicy braised beef/ bacon guacamole burrito dubbed the "Fork & Knife", so they might as well just have named it "The P**sy". Further prepping you for the booze fiesta, hearty dinner fare runs from a corn husk-wrapped chicken tamale, to center cut swordfish with fried cilantro and a pepper butter sauce, to a peach BBQ-sauced 12oz bone-in pork chop with braised Swiss chard, but not braised Swiss Guard, as there's just nothing funny about Catholicism

When it's time to get down to business, there're 100-plus 'quilas (many of them small batch) like Siete Leguas and Herradura Seleccion Suprema, as well as sangria, and salty cocktails like a Milagro Blanco margarita called the El Camino, or the Del Diablo Rosado ("Pink Devil") rocking vodka infused with five different chilis, making it the hottest thing since Sam kissed Rebecca in season six anything at a wild tequila bar.
Recommended Video
This Outdoor Food Hall Serves Up All Things Deliciously Asian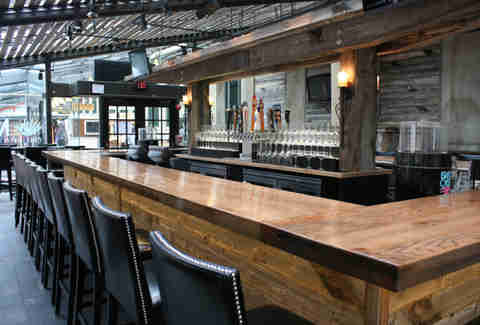 Previous Venue
Next Venue
Venue Description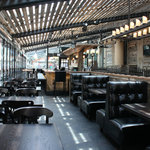 1. Mija Cantina & Tequila Bar
1 Faneuil Hall Marketplace, Boston, MA 02109
Come for the tequila, stay for the surprisingly chic decor and totally decent Mexican food (... cheeseburger taco aside). Mija Cantina is a reliable Faneuil Hall restaurant with a terrific tequila menu featuring over 100 options that nicely complements the cocktail selection (because honestly, you're there for the drinks, even if your traveling companions are not).