Apparently there will be drinks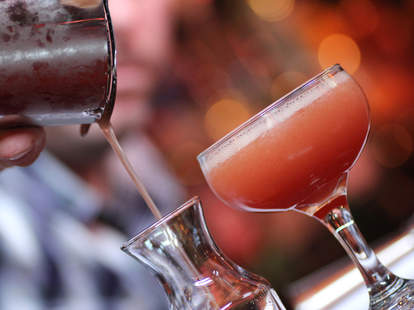 Everyone knows about most important summits, like the G8 dealing with the world's largest economic powers, and the New Jersey one dealing with wealthy, white people who commute to Manhattan, but all of those can suck it compared to the First Annual Boston Cocktail Summit. Coming in a couple of weeks (with tickets on sale now), the BCS is a three-day extravaganza for industry professionals, common folk, and other people who would never seriously use the word extravaganza, featuring parties, trade exhibits & seminars showcasing the Hub's history of mixology and brewing. Stuff you likely shouldn't miss:
Seminars: Top choices include Greasing the Hub: How They Made 'Em In Boston, Spirits Tasting in a Blind, The Subtle Nuances of Vodka, and Born to Mix, which is about classic and contemporary spirits "made" for cocktails, and not just a VH1 Behind the Music on DJ Kay Slay.
Events That Aren't Called Seminars: A Craft and Fine Spirits Showcase allowing you to sample unique hooch from around the world; A Beam BBQ featuring their Kentucky bourbons (plus tequila and beer somehow) paired with local 'Q; and, of course, On the Town with Dale DeGroff, in which the icon "presents an evening of stories, cocktails, and songs from legendary watering holes and his 40 years of working and carousing them" (Not likely on his list: Clery's downstairs).
Other Stuff: Expect "Wine Geek" Steve Olson and good ol' Brother Cleve to make several appearances and drinks, and top Hub chefs to make special dinners paired with so many cocktails that, by the time you're done, you will have reached your nadir (also likely a town in New Jersey).