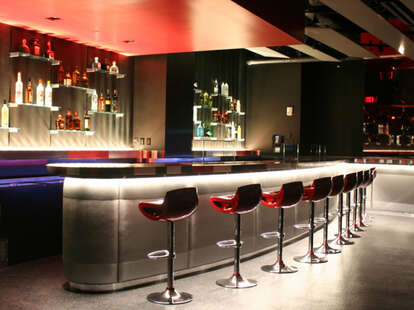 Since Ascent is probably just a company that specializes in making escalators that only go up, venture to Descent, a fancified underground cocktail sleeve covertly tucked below the W Hotel and eliciting a speakeasy-to-the-people-with-expensive-shoes vibe, whilst wistfully playing off its location in what was once The Combat Zone, a sketchy place where, for the right price, any Mortal could hear the words, "Finish Him!".
What to expect upon descending
A giant, street-level, mod red chandelier and funky starburst-imaged staircase give way to dimly lit raw stone foundation walls, chalkboard graffiti, a glittered epoxy floor, and grey leather banquettes/ ottomans dressed w/ red throw pillows, also what Andy Dufresne said to Morgan Freeman, when he wanted to incite a very gentle and playful prison riot.
Cordoned off by both a mesh chain curtain and their intimidating personas, DJs will be spinning deep Eddie house threes, Nu-disco, and classic/tech house in a glass-encased booth that overlooks a striped Corian bar and a row of gleaming red plastic stools w/ chrome kickstands.
When you're done doing the worm to deep house, refresh yourself with suds like Flying Dog's In-Heat Wheat and Paper City's One Eared Monkey, or crafty cocktails including a Bourbon All-Spice Sour w/ apple cider, the anejo/ vermouth/ orange curacao'd Chocolate Manhattan, and a whiskey number blended with sherry and blackberries called the Irish Cobbler, who's another person that -- for the right price -- will help you GET OVER HERRRREEE!!!