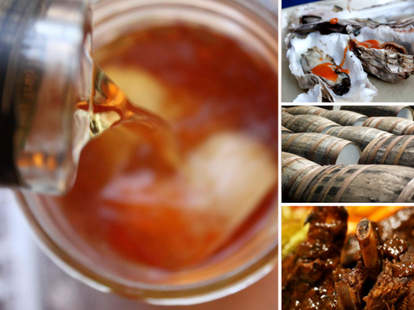 Okay, so they're not actually serving what surprisingly dexterous old-timers called white lightning, or alley bourbon, or rotgut, or most hilariously, panther's breath, but you should still hit Bella Luna's slightly misnomered Moon Shine Pop-Up Whiskey Bar, because A) it's one night only of choice booze, choicer eats & the choicest of experts making you sound smart about both previous things, and B) you can brag to all your roommates in Allston about going to a moonshine party in JP, even if, you know, it's not totally accurate.
Throw on your finest overalls and partake in:
Whiskey, You're The Devil Served in mini Mason jars about one-one millionth the size of Anthony, highlights from the globe-spanning brown booze include Islay's first single malt Bowmore 15; Suntory's Yamazaki 12 aged in casks of American, Spanish, and Japanese oaks; and the triple-distilled & pale gold Scotch Auchentoshan Classic boasting hints of vanilla/ coconut.
Food, You're Less The Devil, And More Just A Bad Influence The whiskey-complementing vittles include bourbon pecans, grilled oysters w/ Sriracha & pickled ginger, endive with bacon, grape tomatoes and maple aioli, and chocolate balsamic'd rosemary braised short ribs with cracked black pepper, all of which will aim to stuff you with something other than ruckus juice*!!!
*Note: again, no actual ruckus juice served.