Why follow your GF into Mint Julep when you can ogle Harvard co-eds (Natalie Portman used to drink here!!! Ahhhh!!!) while warming yourself by the faux fireplace in the legendary underground pub, which features a half-price vittles happy hour as well as a roving guest tap (currently Sixpoint Brownstone Ale), and old standbys such as Wychwood Hobgoblin and Lagunitas L'il Sumpin' Sumpin' -- which's what you won't be getting once she finds you sauced and staring at Harvard chicks.
Recommended Video
Hooters Is Opening a New Restaurant Chain That's Hiring Guys
Previous Venue
Next Venue
Venue Description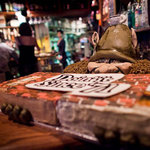 1. Grendel's Den
89 Winthrop St, Cambridge, MA 02138
This Harvard Square hot spot is home to all walks of life (read: Harvard and Cambridge students). Grab one of their unique brew choices and relax in the bar that noted Harvard hottie Natalie Portman used to hang in.