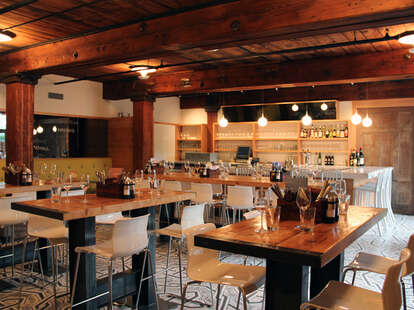 What do you get when Central Bottle drinks too much of its own product and hooks up with Blue Room while watching a 1998 movie directed by Hype Williams? Answer: Belly Wine Bar. The third offering from the owners of CB and BR, Belly is essentially the offspring of the first two: an Italian-inspired, 45-seat vino sanctuary meets charcuterie HQ set in a 19th-century mill that contrasts wood beams, plank ceilings, and salvaged chestnut/ steel girder tables with a sleek, nine-seat marble bar, Italian porcelain-tile floor, and bistro-style mirrored menus.
Eat It Up: After pairing a selection of cheeses (10 of which are curated weekly in groupings like "fresh", "funk", and "the blues") with steak tartare, marrow bones & lamb belly bacon w/ shaved brine-cured farm yolk & duck en croute, move on to the 24oz, house dry-aged ribeye for two or their four-round, family-style, whole animal "Arm + A Leg" dinner complete w/ housemade cracklings, roasted pork shoulder, and pig trotters (so, um, the personal trainers on Biggest Loser?).
Drank It Down: Served by the glass and bottle, wines run the gamut from classic to "geeky" and are split into offbeat categories like "rocks in your mouth", "a wee bit sparkling", and "size matters", which includes magnums, though you won't be needing those after having too much of Central Bottle's product.