Welcome, this is a farmhouse... ale event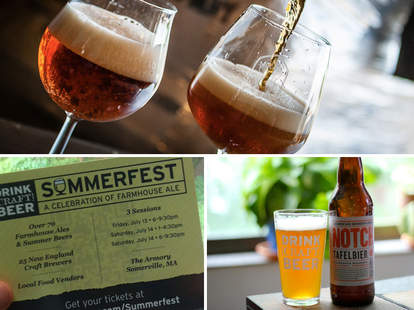 You know how farmers were always making light Summer beers for their farmhands, likely so they didn't feel as weird when they had to milk things? Well, whatever, they did, and now you should pay homage to said beer at this weekend's first annual, three-session extravaganza of suds, which is "the only fest focusing on Farmhouse Ale east of the Mississippi", though apparently west of the Mississippi these things happen all the f-ing time.
Because you're probably rife with questions like, "Is Youngblood the only movie where I can see Cynthia Gibb naked?", "Is it true that a farmhand in Belgium is called a "saisonnieres?", let this record set you straight: What can I expect?Beer! And maybe dudes wearing overalls. But mostly beer. 25 local craft brewers (including Enlightenment Ales, The Alchemist, and Portico Brewing) will be pouring over 70 styles of saison/ farmhouse ale, many of which, like Haverhill's Bullen, were brewed specifically for the event
How much can I drink?Infinity!! Your ticket scores you one biodegradable cup from which you can sip as many samples as you can handle. So, in all likelihood, you will have two farmhouse ales.
My caloric needs are important. They serving any food at this thing?Yes, chubby, they are. Plan on pairing your suds with everything from gourmet hot dogs and juicy burgers, to popcorn and chocolate, which is likely to be popular with the farmhands as that's the only milk thing.