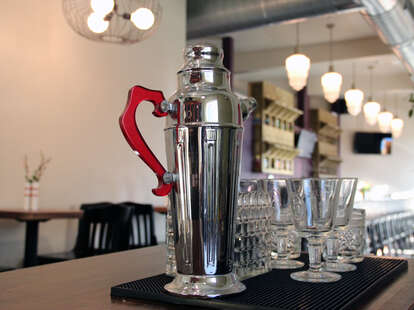 The teenage dream-come-true for an East Somerville-born industry vet (and former GM at Alibi) who started in the biz presumably gaffling Werther's Originals out of Members Only jackets as a night club coat check girl, Daddy Jones's a 35-seat throwback "cocktail lounge" in the former Lil Vinny's that slings Greek-ish bar bites and retro libations.
Sit: Designed to evoke the feel of frolicking at a friend's cocktail party, the homey 12-tabler's eclectically decorated with 20th-century-spanning finds like a wooden cuckoo clock, vintage pay phone, wall-mounted, gold middle-school lockers even AC Slater couldn't open (just kidding, of course he could), art deco milk glass pendants that resemble upside down Empire State Buildings, and even a kitchen-esque back bar complete with working mid-century fridge.
Imbibe: If you don't want their signature Daddy Jones wine cooler or amber ale (by Opa Opa), opt instead for a cocktail served in a frozen fruit vessel (screwdrivers out of an orange, anyone?) or other tweaked classics like a maple/clove-tinged rye Spicy Manhattan, dirty dill infused gin served up w/ pickled green beans, olives & pearl onion, and an Afrodite Bitters-topped Bourbon Spoon described as the "adult version of a Greek tradition"... so don't expect drinking it to be taxing.
Eat: Small plates boast Greek influences (see: tax joke above) and range from smoked herring w/ grilled romaine & fried capers and petite lamb t-bone chops, to a Tzatziki-topped marinated pork sammie in Mediterranean pita, and a bowl of gooey cheddar & elbow pasta dubbed the Mac Daddy, even though it'll likely prevent you from being able to Jump, Jump.