Drink, like, infinity beers on the Waterfront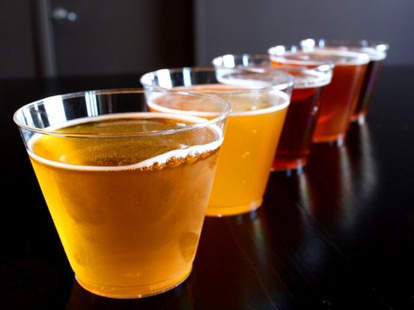 Even though you adamantly insist on drinking long-expired Red Dog, LCB2012 might just be the one event that can put that habit to sleep forever. The fest is a three-hour jollification of craft/artisan beer & booze boasting 50-plus brews & bites that all share one thing in common: they were made right here in the Bay State. Or New Hampshire. Or Vermont. But definitely not New Mexico.
Besides a titillatingly intense hangover, a single ticket scores you
• One 2oz tasting cup and permission to roam the indoor and outdoor space unsupervised (you hear that, Mom?!?), tastefully sampling locally brewed suds from the likes of High & Mighty, Idle Hands Craft Ales, Jack's Abby, and even the Woo-based KyGuy
• If your license plate reads "HNYWINELVR" consider yourself strange and in luck, as NH-based Moonlight Meadery is in the house pouring some of their 58 varieties of honey wine, aka mead.
• Straight booze. And plenty of 'it, from popular area distilleries like Southie's GrandTen, Ipswich rum-specialists Privateer, and Turkey Shore, also what Brendan Fraser says to Pauly when he asks, "What's a good example of a secular, unitary, constitutional republic with a diverse cultural heritage?".
• The chance to avoid listening to pretentious beer snobbery by rocking out instead to live tunes from local artists, so maybe don't wear that Smash Mouth tee.
• A base layer of gratis grub that includes patties from Boston Burger Co, Parmesan & rosemary popped corn from Doctor Quinn, Vermont Smoke and Cure's maple brined bacon, and Fastachi's artisan nuts, or what everyone at this thing is going to call you when you pop open another Plank Road brew that expired in 1997.