Just over a month after debuting their boutique hotel in the Theater District, the folks behind Revere have morphed the former Theatre Cafe into an exact replica of Revere Beach, right down to the chick with no front teeth whistling at people outside of Kelly's Emerald Lounge, an Oz-themed late-night hotspot/ club boasting sophisticated cocktails and small plates. You're damn right you're not in Kansas anymore, so: Sit Here: Anchored by an illuminated 15-seat onyx bar and a twister-evoking metal tornado sculpture that runs up and along the ceiling, the sleek, elongated space boasts metallic silver couches, mirrored cocktail tables, tucked-away alcoves, and even a two-level, wicker-friendly outdoor patio. And, if you take a sec to really explore the space, you'll be justly rewarded. Seriously... just walk around. This doesn't even count as hinting anymore. Sip Up: Skip the Wizard and just ask the bartender for liquid courage in the form of frosty suds (from Palm, Shipyard & Brooklyn Brown) or one of 20-plus crafty 'tails/ "wicked libations" like The Boston Shandy, a whiskey, honey & apple cider number topped with ale. Scarf Down: After making haste on various snacks (olives, nuts, truffle fries), escalate to shareable small plates like blackened/ grilled cod tacos w/ cilantro-lime crema, sweet chili-garlic-sauced lobster rangoon w/ shaved scallions, and jalapeno-cheddar-stuffed beef sliders topped w/ chipotle ranch -- though consume too many, and you'll quickly wish you were no place but home.
Recommended Video
Cigarettes Are Bad, so Make This Smoked Rosemary Oil Dirty Martini Instead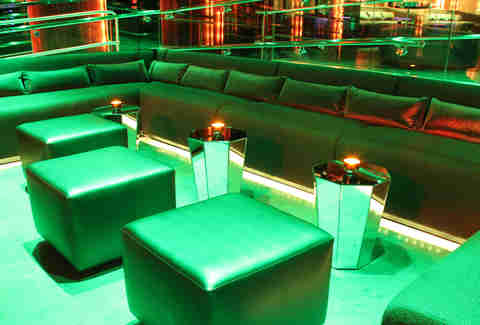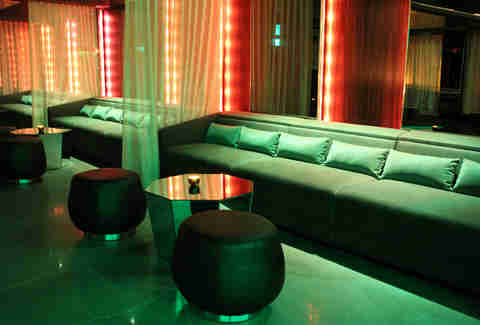 Previous Venue
Next Venue
Venue Description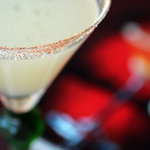 1. Emerald Lounge
200 Stuart St, Boston, MA 02151
There is no reason to dance around it. Revere Hotel's Emerald Lounge is celebrating February with a two-week-long drink menu featuring cocktails your mom would blush just hearing, unless she's local drink aficionada Kitty Amann, author of "The Screaming Orgasm: 69 X-Rated Cocktails", in which case, well, things are already probably awkward enough.