Golf and drinking have long found their share of common ground, mostly in John Daly's liver, but now also at Par Bar & Grille, a heavily links-themed watering hole whose brick walls are packed with schwag from old pictures of Arnie and Jack to vintage clubs. First tee off on snacks (fried jack 'n blue cheese stix, homemade Cajun chips with chive dip) before doing whatever you do after teeing off to half-pound Angus burgers like the goat cheese/ olive/ sun-dried tomato aioli Chip Shot, also a Tribune headline that deeply saddened Dale and left him wondering what the future holds for the Rescue Rangers. They're also sporting two dozen beers on tap, from your standard domestics to craftier options like Revolution Cross of Gold, Firestone Walker Union Jack, and Founders Dirty Bastard, which they might age for a while until it becomes ODB. They've also got a secret tucked below the building: the Under Par Cigar Bar, a subterranean smoking lounge selling stogies that represents one of the Loop's few indoor spots to light up, proving that smoking and golf share more in common than John Daly's lungs.
Recommended Video
Drink This Winter Bourbon Smash and Conquer Cold Weather Forever
Previous Venue
Next Venue
Venue Description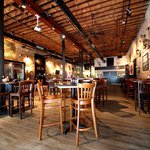 1. Par Bar & Grille
160 N Franklin St, Chicago, IL 60606
Golf and drinking come together in perfect (drunk) harmony at Par Bar & Grille, a golf themed watering hole featuring some tasty snacks (fried jack 'n blue cheese stix and homemade Cajun chips with chive dip) and burgers. You'll find an underground smoking lounge (Under Par Cigar Bar) right below these festivities.